Kimber Young
Kimber Young is an alumna of the 2019 CLS Chinese program in Dalian, China. She's currently finishing an undergraduate degree in Secondary Education with a minor in Chinese Education at Utah State University and works part-time as a Chinese instructor. She hopes to work in curriculum design for the Utah Dual Language Immersion Program. Kimber enjoys traveling, hiking, painting, writing, and reading in her leisure time.
An Early Interest in China
I grew up in Salt Lake City, Utah, the oldest of four siblings. I initially learned to speak Chinese when I was a missionary for my church in New York City, but I have had a passion for China since I was in kindergarten. As a five-year-old, I took it upon myself to make a presentation all about China and present it to my kindergarten class with a trifold and everything. I laugh when I think about it now, but ever since then I have had a passion for the Chinese language and culture.
Why Chinese?
I wanted to study Chinese because I realized that by understanding Chinese, I would be understanding a culture that was so different from my own. That was intriguing to me! Languages open your eyes to a new world.
Learning Chinese helps you understand things from a whole new perspective. In Chinese, two words are meshed to create a new meaning, creating words for concepts that cannot quite be achieved in English. My favorite word to say in Chinese is 小心 (xiaoxin), which means "be careful." I love it because its literal meaning is "little heart," which I think accurately describes that feeling when your heart skips a beat from seeing someone do something dangerous.
Though I have studied Chinese for about five years, the education provided by the CLS program was hard to beat. I felt that I had the best study abroad experience in existence—I expanded my language skills, learned so much about the history and culture of the place we were in, and got to know many new friends on a deep level. CLS was hands down one of the best experiences of my life!
Connecting Across Cultures
I think my favorite memories from the CLS program come from the time I spent with my language partner. She was determined to show me all different kinds of Chinese food. I swear I have tried nearly everything and loved all of it! We talked about so many things together, and really got to know each other as people and friends. By meeting my language partner, I got a very intimate look at Chinese culture through the eyes of someone my own age.
It was such a special experience feeling like a diplomat for the United States and teaching my host family and classmates about my community back home. In my community, we have many traditional values and it was cool to see how much it aligned with Chinese culture. Upon returning home, I felt I had an acute understanding of Chinese culture and was able to share that with my family and friends back home. I even taught them how to make dumplings!
Professional Aspirations
I use my language daily now as a Chinese teacher for teenagers, and it has enabled me to progress in ways I never thought possible. Learning a new language has opened so many doors!
I ultimately want to work in curriculum design for the Utah Dual Language Immersion Program. Utah's DLI program (at elementary and secondary levels) is the leading DLI program in the world! I have a strong belief that learning languages is so beneficial and important cognitively, culturally, and personally.
Alumni Profiles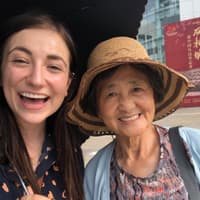 ---
---
Posted Date
April 29, 2020