Kathy Kim
Why did you want to study your CLS target language?
One of my academic focuses lies in the research and analysis of the conflict in the Koreas. In consideration of differing perspectives, I found it difficult to assess Korean sentiments by only reading news written in English by Western news media. Through my attempts toward fluency in Korean, I wanted to also reach a level of academic discussion on issues ranging from Korean politics to North Korean defector populations in Asia.

Also, as a heritage speaker and Korean American, it was important for me to also connect with the Korean language on a personal note. Language acquisition stimulates empathy and cultural understanding. Many times I encountered cultural barriers and misunderstandings from poor translation.
What are your educational and/or professional goals?
Currently, I study Peace, Global Security, and Conflict resolution in American University's School of International Service. I am planning on pursuing an MA in Public Policy and International Affairs. Because of my passion for migration studies, I aspire to work with an international organization such as the IOM, ILO, UNHRC, or State Department's Bureau of Population, Refugees, and Migration.
How do you plan to use your target language in the future?
In the future, I plan to use Korean when working with North Korean defectors and facilitating intercultural dialogues or development projects. Moreover, I also personally use Korean with family and friends.
How did participation in the CLS Program affect your life?
The CLS Program has influenced me heavily in all aspects – personally, academically, and professionally. During the program, the CLS students had several opportunities to bond with North Korean defectors from the SetNet school, a socio-economic integration program. I also had the opportunity to engage with other CLS participants who are interested in tying Korean culture, politics, or language into their diverse fields of study. Additionally, it had been seven years since I last met with many family members in South Korea, and this was a very heartfelt and fulfilling experience.
What was your favorite part about being in your host country?
Even though I grew up speaking Korean with family and friends, speaking the language in the culture and environment makes the experience are so unique. I just enjoyed being in the country, having access to all the "bap" (rice) and "banchan" (side dishes) that I wanted, and reconnecting with my roots.
What did you learn about your host country that you didn't know before?
I learned about the different political parties in South Korea and the dissenting opinions over political leaders. Also, as a Korean American with my own misconceptions of gender roles in South Korea, I was surprised to see the culturally changing perceptions.
Please share a short story about your CLS Program experience.
During the CLS program, I had the opportunity to participate in a weeklong homestay with a Korean family. Both host parents were public servants, a firefighter and a schoolteacher, and had three children. After classes, I would play with the kids and answer their questions about me and my life in the US. I especially have fond memories of speaking with my host parents. As young 38 year olds, they grew up in a different generation than my own parents and demonstrated the changing social environment in South Korea. It was a cross-cultural exchange in the purest of forms, between me as a Korean American exploring the "Korean" identity and them as young Korean parents reflecting on my bicultural identity. The program's academic rigor in tandem with the homestay component gave me and many of the other students great opportunities to develop relationships and pursue experiential learning, by applying lessons learned in the classroom to real world settings.
What is your favorite target language word or phrase, and what does it mean in English?
길고 짧은 것은 대어 보아야 안다.
English Equivalent of the Proverb: You will never know until you try.
What is a must see or must try in your host city or country?
South Korea has cities that capture the country's unique landscape, integrating urban buildings amidst all the nature. I recommend traveling to the southern area of Daegu and Pusan. If time permits, Jeju Island is a must see!
What advice would you give prospective applicants, participants on the program, and/or recent CLS alumni?
I would tell participants to make three realistic goals before the start of the program and let them stand as guides to the summer. With only eight weeks of intensive language immersion, it is essential to maximize your focus on the aspects of the Korean language that matter to you the most, whether it be grammar, language conversation, or certain types of vocabulary. The program is intense and has many different activities. Looking back, I am grateful to have been exposed to so many different types of experiences from cooking Korean food to visiting the Panmunjom zone.
Personal background
I am originally from Marietta, Georgia, and I am the youngest of three daughters. As a Junior studying International Relations at American University in D.C., I have been motivated to pursue language acquisition and travel to understand not only different cultures but my own culture, more. Volunteering with various organizations that focus on lower socio-economic groups to minorities taught me the importance of investing in the growth of surrounding communities. Sometimes this help does not translate without an understanding of the target community's culture and language. As the daughter of immigrants, I understand these challenges and hope to create a better environment for others in the US and beyond.
Alumni Profiles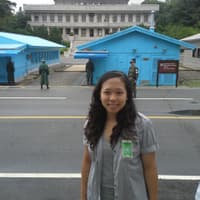 ---
---
Posted Date
April 27, 2015