Julie Emory
Julie Emory is an alumna of the 2020 CLS Japanese virtual institute hosted by Okayama University in Okayama, Japan. She is a second year master's student in international studies at the University of Washington, Seattle and has a bachelor's degree in history and national security studies from Coastal Carolina University.
Getting to Know Julie
I was born in New Jersey but grew up in Florida, South Carolina, and Virginia. As a first-generation, low-income college student, NSLI-Y and study abroad through my college allowed me the opportunity to be the first in my family to travel overseas, to South Korea and Japan. These experiences abroad fostered a lifelong curiosity that manifests in my love of reading and interest in global affairs. I am currently residing in Washington state and intend to continue living on the West Coast following completion of my Master of Arts. I am an avid reader and casual gamer in my spare time.
Why Japanese?
I initially wanted to study Japanese upon developing interest in a class on the history of World War II that I took at a local university when I was a high school student. Without the resources in South Carolina, however, I had to commit to independent study of the language. Eventually, as I studied Buddhism, Japanese culture, and Japanese literature, my interest grew and motivated me to seek an education in Asian Politics.
I would encourage others to learn Japanese because Japan is extraordinarily influential from the widespread allure of popular culture to its importance in the international theater. Additionally, I believe learning Japanese poses a unique challenge as a language extremely different from English (consider you must learn approximately 2,000 kanji in addition to an almost opposite grammatical system to read a newspaper, for example). Learning Japanese is a large commitment but the experience has been enriching.
​大変お疲れ様でした。Taihen Otsukare sama deshita. This is one of my favorite phrases in Japanese because I don't feel there is an appropriate English equivalent that feels as genuine to simultaneously acknowledge and, often, thank someone for their hard work.
Adapting to the Virtual Program
I did not anticipate the online transition for CLS but I had many great moments with my peers in the new virtual environment. I loved laughing with my language partner about different cartoons and dramas we shared and talking with my peers inside and outside of class about various projects. My favorite moment of virtual CLS was taking my language partner on a tour of my university campus (albeit closed due to the pandemic). There were times where I forgot a word but still managed to communicate and share something special to me despite the difficult circumstances of navigating graduate school and a virtual program like CLS during a pandemic.
Since participating in the CLS Program, I've shared cultural and linguistic knowledge about Japan and have challenged myself and those around me to listen and talk about our differences to grow as a community. I, for example, took time to step back and read So You Want to Talk about Race? and other books to better understand my biases to become more understanding to those around me.
Future Pursuits
I plan on entering the private sector as a policy/security advisor in Asian affairs following graduation in the short-term future. After working in the private sector, I intend on returning to a PhD program in Political Science to teach International Security with a focus on Asia at a collegiate level. My language skills will serve me professionally as I perform research and communicate with colleagues in Japan to forge more professional contacts.
Alumni Profiles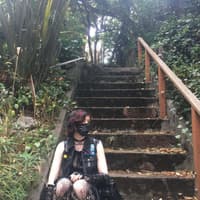 Julie Emory
Japanese 2020
Okayama, Japan
---
---
Posted Date
May 10, 2021