John Krzyzaniak
When John Krzyzaniak decided to attend graduate school and make a career change in 2014, one of his key goals was to pick up a new language. Although he took Persian classes, hired private tutors, and even used Rosetta Stone during his two-year Master's in International Relations program at the Georgie Institute of Technology, he knew it would take an immersion experience to achieve the professional proficiency he sought.
"I knew the only way that I could gain language skills rapidly in order to use them in my professional career was to participate in the CLS Program. I wasn't awarded the scholarship the first year I applied, but that only made me more determined to get it the next year. So I continued to hone my essays and was accepted in 2016."
While on the CLS Program, John realized how far he could push himself to accomplish his language goals.
"Living in Tajikistan was difficult. Modern conveniences that I had become accustomed to were not available, and we lived in an area where English was not spoken at all. It was a valuable lesson to see how productive I could be academically despite the challenges."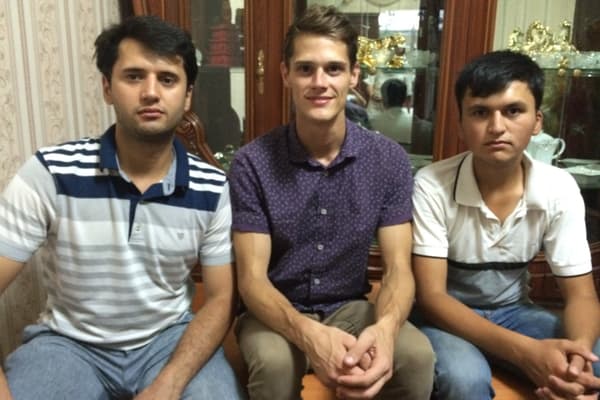 John Krzyzaniak with two members of his host family.
"A few fellow classmates and I took the language policy seriously and spoke only Persian together on weekends and other times when it was more challenging. After less than two weeks I could already tell I was pushing my Persian to the next level. I had no option to fall back on English."
John is now an editor for the Bulletin of the Atomic Scientists, a niche foreign-policy magazine that covers man-made threats to the continued existence of humanity, chiefly nuclear weapons and climate change. He often has the opportunity to write short articles about Iran based on topics that he picks up in the Persian news media.
"The CLS Program was instrumental in getting me to the proficiency level required for my career. My employer cited my language skills as one of the main traits that made me an outstanding candidate."
"Outside of work, I read books and listen to podcasts in Persian, and still speak with people from my CLS cohort. In fact, last year a few of us received a CLS Alumni Development Fund to produce a Persian language podcast of our own!"
Alumni Profiles
John Krzyzaniak
Persian 2016
Dushanbe, Tajikistan
---
---
Posted Date
March 03, 2020