Jason Chen
Jason Chen is an alumnus of the 2018 CLS Chinese program in Xi'an, China. He's currently in his third year of the joint Medicine and Master of Public Health program at the University of Utah and holds undergraduate degrees in Spanish and Biology. After graduating college, Jason studied Mandarin at Princeton in Beijing (PIB) via the Foreign Language Area Studies (FLAS) Scholarship and spent a year as a Fulbright English Teaching Assistant in Tabasco, Mexico. He enjoys watching TV shows in Spanish and Mandarin, doing karaoke, and Zumba.
Intercultural Beginnings
I grew up in Buffalo, New York, St. Louis, Missouri, and Salt Lake City, Utah. My parents emigrated from Taiwan to the US to pursue higher education, so as I got older, I realized that international education was something very important to me.
Like many second-generation Americans, I grew up wanting to break away from my cultural background to establish my own American identity. For me, this meant begrudgingly going to weekend Chinese school and usually failing the weekly dictations. My interest in studying Chinese was very accidental and perhaps overdue—I didn't take my first Chinese class until my senior year of college!
My educational experiences not only helped me develop my language skills, but also helped humanize my parents' immigrant experiences. By studying abroad, I was able to get a sense of what it meant to be a twenty something trying to establish a life in a new country.
Developing a Love of Language
As a Spanish major in college, I developed a love of linguistics and found the field of sociolinguistics fascinating. Concepts like code-switching, prestige, register, and dialectology helped me contextualize my dual identities as a learner of Spanish and heritage speaker of Mandarin. Furthermore, I was fortunate to be able to study abroad in Spain, Peru, and Mexico. My motivation to better understand my own Taiwanese-American identity though a socio-linguistic perspective is at the core of what drives me to study Mandarin.
The Path Forward
I'm currently pursuing the joint MD/MPH program at the University of Utah School of Medicine. The great thing about my educational path is that it opens a lot of doors. Among other things, I can pursue clinical practice, administration, research, or teaching. However, participating in the CLS Program left me with one core professional value I wish to pursue in the future: public service. Being selected for a federal program such as CLS has bestowed upon me a sense of duty to serve my community and country. My professional goal is to someday be a Foreign Service Regional Medical Officer so I can combine my interests in medicine, community building, language and diplomacy.
As Nelson Mandela said, "If you talk to a man in a language he understands, that goes to his head. If you talk to him in his language, that goes to his heart." Speaking broadly, being able to communicate to patients in a language they can understand helps foster the physician-patient relationship and brings more of a humanistic approach to medicine. As a future medical provider, I plan to use my skillsets in language, cultural understanding, and medicine to provide the best care for my patients. As I continue in my medical training, I will seek opportunities to expand my knowledge of medical Chinese.
A Memorable Sunrise
One of my best memories was seeing dawn at the summit of Huashan Mountain (华山), one of the five sacred mountains of China. It helped me develop an understanding of the importance of "citizen diplomacy," through which average individuals can help shape foreign relations and mutual understanding. Working together to overcome the challenge of summiting a mountain in the middle of the night transformed my companions from strangers into friends. The experience helped me develop a greater understanding and friendship with Chinese people, one that I hope to continue developing in the future.
Contextualizing Identity Abroad
Being from Salt Lake City, I talked to most Chinese people about basketball, westward expansion, and the LDS religion. However, as a second-generation Taiwanese-American, I found my most fulfilling conversations in Chinese were about topics like the immigrant experience, racial discrimination, and cultural integration into mainstream American society. The opportunity to hear a Chinese perspective on these issues was valuable because it helped me contextualize my own identity as an Asian-American.
---
CLS Alumni Ambassadors are recent CLS participants who take leadership roles as active and positive representatives of the CLS Program by engaging with CLS alumni and representing the program to various audiences. If you would like to get in touch with a CLS Alumni Ambassador, please contact clsalumni@americancouncils.org
Alumni Profiles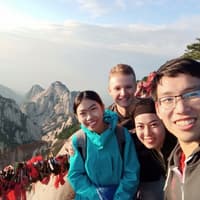 ---
---
Posted Date
May 06, 2019