Jasmine Kinkead
Jasmine Kinkead is an alumna of the 2018 CLS Bangla program in Kolkata, India. Now a junior, Jasmine transferred from Treasure Valley Community College to the University of Idaho, where she studies International Relations with a focus on African and Asian Studies. She hopes to work with an NGO, using her Bangla to assist with translation or humanitarian aid. Jasmine loves to play tennis and played during her first two years of college. When she's not studying or working you can find her on the courts!
Learning from Family
I was born in California and since then I have lived in nine other states. However, I mostly grew up in Idaho and Oregon. For the first two years of college I moved in with my aunt, uncle, and cousin. My aunt's side of the family is from Bangladesh. Living with them opened my eyes to a new lifestyle entirely. For example, I learned how to cook ঘুগনী (Ghugni) which is a dish with garbanzo beans and my favorite হালিম (Haleem), a mixture of spices cooked with lentils and sometimes goat. Initially I chose to learn Bangla because I wanted to connect more with the part of my family that doesn't speak English.
Throughout the program I started to realize how many lifelong friendships I had formed, not only with native Bengalis living in Kolkata but with the other CLS students. Everyone I met on the program inspired me to become a better Bangla speaker.
Changing Career Goals
Before I went to India I had a pretty solid idea of where I wanted my career to go but after the CLS experience I became aware of more opportunities. I switched my major from medicine to international relations to learn more about organizations like the UN and the Peace Corps and how studying Bangla fits in with those.
I know there are a lot of English speakers and Bangla speakers who need to understand one another. When my Bangladeshi aunt first moved to America she learned English by watching TV shows and she said it took her nearly seven years to fully feel and express her emotions in English. I want to be able to help those who need more than what tools like Google Translate can provide.
A Live-Saving Connection
One day, a local woman grabbed my arm and pulled me out of the street because a bus was turning the corner and I wasn't paying attention. I saw her later selling flowers under the Howrah Bridge and I managed to ask her in full Bangla if I could take a photo with her to remember her. She showered me in compliments on knowing some Bangla and happily obliged. Meeting sweet people like her was almost a daily experience.
Sharing Food
My host family were great chefs. My host mom was interested in American dishes and ingredients. I remember she asked what specific cuisines America loved the most and I explained to her that because of the vast amount of people in America coming from different places in the world there aren't really dishes that are only American (other than maybe Native American foods). Americans sometimes even eat breakfast for dinner and this seemed to be a new concept for her.
Dispelling Myths
Many people have preconceived ideas about what living in India is like, but the CLS Program has helped me distinguish what's true from what's not about Indian stereotypes. For example, a few people think India is really unsafe and they ask me how I felt walking alone around Kolkata. I think it was surprising for them to hear that I usually felt comfortable exploring the markets, coffee shops, and streets by myself.
---
CLS Alumni Ambassadors are recent CLS participants who take leadership roles as active and positive representatives of the CLS Program by engaging with CLS alumni and representing the program to various audiences. If you would like to get in touch with a CLS Alumni Ambassador, please contact clsalumni@americancouncils.org
Alumni Profiles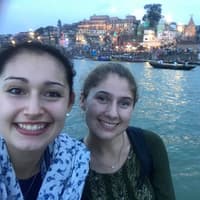 Jasmine Kinkead
Bangla 2018
Kolkata, India
---
---
Posted Date
May 06, 2019