Jane Palomera Moore
Jane Palomera Moore is an alumna of the 2018 CLS Japanese program in Hikone, Japan. She graduated in December 2018 from the University of Southern California with a Master of Public Diplomacy and now lives in the New York City area, where she looks forward to exploring opportunities with humanitarian and non-governmental organizations. Her future plans include using her Japanese language skills as a Foreign Service Officer. Jane is an enthusiast of tea, genealogy, and theater.
An Early Drive to Travel
Born and raised in Hale'iwa, Hawai'i, I'm part of a large Hispanic family and a first-generation university student. From an early age, I loved travel. I challenged myself to memorize every flag of every country in the world and persuaded my parents to buy me small Hebrew and Mandarin phrasebooks that I hardly knew how to make use of as a seven-year-old. My drive to learn from, and empathize with, others beyond my immediate scope has given me a love for travel. Since then, I've had study abroad experiences in Copenhagen, Denmark and Istanbul, Turkey; I've also spent two years on the JET Program in Kobe, Japan.
I was inspired to study Japanese because Japanese culture has strongly influenced Hawai'i's society and culture. My interest in Japanese only grew alongside my interest in international relations: I wanted to better grasp the unique relationship Japan and the United States share, and gain a deeper insight into Japan's influence in the Asia-Pacific sphere.
Throughout my time on CLS, I found myself reflecting on 多様性 (tayousei) with my peers: "diversity." Japanese society is diverse, full of unique stories, communities, and history. I can appreciate that diversity thanks to my strengthened Japanese skills.
Making Friends over Tea
During one of the hottest days of the year in Japan, my language partner and I ventured into a little town outside of Hikone looking for a dessert café. Understandably, the café was closed that afternoon due to the heat, but we happened to run into two older, talkative women who were volunteering at a daycare. They urged us to come into their air-conditioned office and for over half an hour the four of us had a wonderful time sharing stories. I learned about the history of the town, its textile industry, and these two women's memories growing up there in the shadow of Mount Ibuki. They even gave us tea made from spring water they had collected directly from the mountain! This unplanned encounter turned out to be one of the most rewarding experiences from my time on CLS. I was struck by the kindness of these two women and their willingness to share their time, tea, and company with us. I was also surprised at my own Japanese ability: I comprehended a lot more than I thought I could – I could even participate in a meaningful, spontaneous conversation. After that day, I trusted my own Japanese skills more than ever.
Inspired to Keep Learning
Immediately following my time on the CLS Program, I couldn't wait to follow up on some insights I'd gained into Japan's indigenous population, the Ainu. Thanks to my conversations with Japanese students, teachers, and friends in Hikone, I was able to develop a respect for and curiosity about the lives of modern Ainu people in Japan. This culminated in my writing a magazine article on Ainu cultural exchanges, which was published in Public Diplomacy Magazine's spring 2019 issue.
As a recent Master of Public Diplomacy graduate, I've brought my CLS experience into the classroom when discussing how cultural and educational exchange programs greatly benefit participating nations and their people. The power of person-to-person exchanges provides immediate and lasting positive relationships in participating communities. I'm grateful I got to experience this myself; going forward, I aim to encourage others to try it for themselves.
---
CLS Alumni Ambassadors are recent CLS participants who take leadership roles as active and positive representatives of the CLS Program by engaging with CLS alumni and representing the program to various audiences. If you would like to get in touch with a CLS Alumni Ambassador, please contact clsalumni@americancouncils.org
Alumni Profiles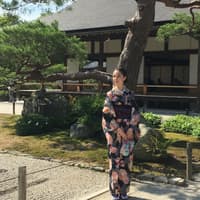 Jane Palomera Moore
Japanese 2018
Hikone, Japan
---
---
Posted Date
May 06, 2019