Jacob Burch-Konda
Jacob Burch-Konda is an alumnus of the 2018 CLS Turkish program in Baku, Azerbaijan. He is currently a junior at Oklahoma State University where he's majoring in Animal Science. He plans to attend veterinary school or pursue a master's degree in Animal Sciences. Jacob grew up on a small peach farm outside of Kingsburg, California and has a very close relationship with much of his extended family. Having lived most of my life at the base of the Sierra Nevada Mountains, he is passionate about outdoor activities, including snow skiing, camping, hiking, and wakeboarding.
Beginnings in Turkey
I first began learning Turkish when I spent a gap year in Aydin, Turkey on the YES Abroad program with a host family who didn't speak English. My primary motivation for studying Turkish has always been the people. I love being able to connect with people from across the globe and show them that I care about their language and culture. It has been incredible to listen to and understand the perspective of the Turkish people in their own native language, while sharing my own perspectives as well.
Before living in Azerbaijan with CLS, I had no concept of how important the Turkish language is across the Turkic-speaking world. Azerbaijan is filled with Turkish television, music, and advertisements, to the point where many Azeris are fluent in Turkish as well. The Turkic language family also allows a glimpse into so many unique cultures across Eurasia, and having a base in Turkish makes learning these other languages so much easier!
Turkey and the other Turkic-speaking countries are home to quickly expanding agricultural industries and it is my goal to use my language skills to listen to farmers and help develop practices that will both improve rural communities and benefit the environment.
Connecting Language to Agriculture
Sustainability is a word we hear quite a bit when discussing the current realities and issues within the agricultural industry. As our world continues to increase in population and thus food production, I hope to be a part of the research into finding sustainable solutions to problems such as food insecurity.
A Life-Changing Haircut
During our first week in Baku, a group of fellow CLS participants and I were in need of haircuts and stumbled upon a small "Turkish" barber shop right down the street from our university. Just a few haircuts later, we had quickly become friends with the owner Javad and the other barbers in the shop. Over the course of our time in Baku, the barbers showed us around the city and we learned of all the cool local restaurants and cafes. Sometimes we would just go to the barber shop to hang out after school, where the barbers were always willing to speak Turkish with us. I've loved keeping in touch with my barber friends post-exchange and am convinced I will never find a haircut that good in the states!
Falling in Love with Culture
Most of the people in my home community (Kingsburg, California) and college town (Stillwater, Oklahoma) had never heard of Baku, Azerbaijan, let alone understood what life is like there. I have enjoyed sharing with Americans what a day in the life of an Azerbaijani would look like, as well as their shared values and culture. Azerbaijan is located at a crossroads of several beautiful cultures. Azerbaijanis tend to be very warm and hospitable people who take pride in their nation. Many of the Azerbaijanis I spoke to cherished linguistic, religious, and ethnic diversity and were quick to assure me that their country was a home to all. Some of the people I met in Azerbaijan are the strongest people I know, and I was so inspired by the perseverance of my host community, which had an often turbulent past.
---
CLS Alumni Ambassadors are recent CLS participants who take leadership roles as active and positive representatives of the CLS Program by engaging with CLS alumni and representing the program to various audiences. If you would like to get in touch with a CLS Alumni Ambassador, please contact clsalumni@americancouncils.org
Alumni Profiles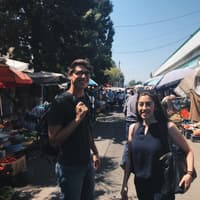 ---
---
Posted Date
May 06, 2019