Isaiah Weaver
Isaiah Weaver is an alumnus of the 2015 CLS Urdu program in Lucknow, India. He grew up in "Gorgeous Prince George's" County, Maryland, and is currently in his third year at Morgan State University, where he studies electrical engineering. When he isn't tinkering with software, he enjoys scuba diving and rock climbing.
Why Urdu?
I studied Hindi the summer before CLS, and I wanted to learn the stereotypically "Muslim" language. When I graduate, I plan to utilize my Urdu skills for my entrepreneurial aspirations in South Asia; I want to create a platform to train disadvantaged groups in engineering sciences.
In a word…
My favorite Urdu word is "moor" because it has a multiple meanings depending on the region of the world in which you live. In Urdu, it means "peacock," but in Greek, it means "black," and in English, it means "uncultivated land."
Sweet translation
During one of my personal tutorials, I asked my professor for the translation of the expression "the blacker the berry, the sweeter the juice." He was delighted to hear this because he had never heard of any Black American idioms before. So, naturally, we proceeded to have several translation lessons on them and he was constantly laughing at my antics.
Diversity, at home and abroad
It was important to hear about minority Muslims' experiences, concerns, and fears. But it wasn't just their stories that were important - I also learned more about the diversity of thought amongst American citizens, which propelled me to take interest in ideas I wouldn't otherwise have thought about. I started to care about gender equality and the experiences of racial minority women in the United States. Also, it was the first time I met Americans that have lived the majority of their lives outside of the United States. Stories like these have captivated me since CLS.
If you had one day in India…
Go see the Botanical Gardens in Lucknow.
Words of wisdom
Embrace your inner lunatic, within reason. Do what you would never do before in the United States. YOLO. I bought street parrots, fed monkeys, and walked in traffic without anyone finding those activities odd. I had a nice meal with the neighborhood auto-wallah that loved charging a little bit extra for service, though I couldn't understand him nor confidently say he was trustworthy. Several times, people ordered me to follow them, bought me a meal or drink, and then asked for a photo. Now, I have never been one to refuse a free meal, and the different sanitation requirements of Lucknow weren't a good enough reason to start!
Alumni Profiles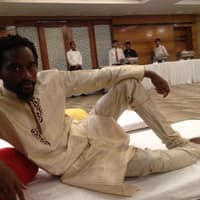 Isaiah Weaver
Urdu 2015
Lucknow, India
---
---
Posted Date
May 03, 2016