Isabelle McRae
Isabelle McRae is an alumna of the 2016 CLS Turkish program in Baku, Azerbaijan. She is currently a junior at Portland State University majoring in international relations with a minor in Turkish. Isabelle grew up in a small town on a peninsula in Northwest Washington, where you know everyone in the grocery store. After spending her sophomore year of high school in Lisbon, Portugal, she spent as much time out of the country as possible. When Isabelle is not studying or traveling, she likes to practice languages, dance, and cook.
Why Turkish?
I first traveled to Turkey in 2012, and spent a lot of time in rural areas where English was not spoken. I have a low tolerance for being illiterate, so I just started learning. I met all these lovely people and understanding them better in their own language is the most rewarding thing for me.
In a word…
Turkish idioms, colloquialisms, and etymology are endlessly interesting. For example, the word for friend, arkadaş, comes from arka+taş: behind+rock. Your friend is the rock behind you. I love that. Learning Turkish is a gateway to a host of other Turkic languages as well, such as Azerbaijani, Kazakh, Kyrgyz and Uzbek.
The Doctor is in the House
One of the most memorable moments from my summer in Baku was when I got sick. I came home from school with a fever. After a nap it hadn't improved, so I told my host mom. "Doctor Aida is here!" she proclaimed. At once she transformed in a flurry of activity, had me strip down on the bed, and proceeded to cup my back (an old kind of therapy which uses burning glass suction cups, basically). When I looked over, my entire back was covered in deep purple bruises. My host sisters laughed at my alarm and assured me this was a family health tradition. While I can't say that I got better because of the cupping, I certainly did feel I had received an Azerbaijani rite of passage. The bruises were testament that I too belonged there, and the way my family took care of me was really touching.
Words of Wisdom
I'm working on improving my language so that I can carry out research in Turkish. Especially with the political climate of fear in Turkey and in the United States, I think it's key to share a humanistic and positive side of these cultures. There aren't a lot of young people involved in that work, and now that it is more difficult visit Turkey, it is even more critical.
Alumni Profiles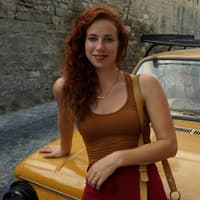 ---
---
Posted Date
March 28, 2017