Imani Everett
Imani Everett is an alumna of the 2020 CLS Korean institute hosted by Chonnam National University in Gwangju, South Korea. She's an undergraduate sociology major at Virginia Commonwealth University and will graduate in 2022. She also works as an Education Coach for ACE-IT in College at VCU, an organization focused on supporting students with intellectual disabilities with university life and classes.
Getting to Know Imani
I was born in Chesterfield, Virginia and moved to New York City around the age of 10. Since I was young, I have always had a strong interest in foreign languages and learning about other cultures. Living in New York City opened my world to so many diverse people, food, and experiences. It also prepared me for interacting and working with people from different backgrounds in my academic career.
Why Korean?
Besides Korean, I have also studied Spanish, American Sign Language, and Japanese, working towards a goal I've had since middle school of becoming multilingual. The first time I heard Korean was in 2017, when my best friend introduced me to K-pop. At first, I simply enjoyed listening to the music, but I quickly became intrigued and captivated by the language. That summer, I started to learn Korean seriously on my own.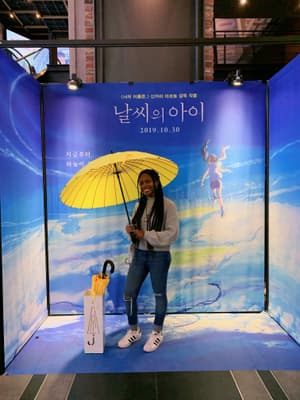 In the fall of 2019, I studied abroad in Seoul, South Korea and gained a deeper appreciation for Korean culture and people. I was able to converse with native speakers and learn about their own experiences living in Korean society, which particularly interested me as a sociology major. After studying abroad, I knew for sure that I wanted to pursue a career related to intercultural communication.
Future Pursuits
I would like to encourage other Black students to learn a foreign language and to study abroad. From my experience as a Black woman, foreign language education is not very common among the Black community and many people are surprised when they learn that I can speak and read Korean. I think Black Americans could benefit significantly from learning other languages and cultures, especially these days. Since many Black students may struggle financially, I hope to create or work for an organization that supports Black students in their linguistic and global pursuits.
I plan to use my Korean and English skills to bridge the gap between different cultures and to promote understanding between them. One of my main goals is to become a translator or interpreter between the two languages. With this role, I want to spread awareness of different aspects of Korean culture and also to spread awareness of Black culture with the goal of improving the experiences of Black people abroad.
Changing Perspectives
One thing I will never forget from the CLS Program is when my teacher told us, "Everyone, it's okay to make mistakes. Don't worry and just make mistakes! If you didn't make any mistakes, then you wouldn't need a teacher." Though it may seem like simple words, it meant so much to me at the time and still does now. I realized that I shouldn't worry so much about making mistakes, but rather I should focus my energy into overcoming and learning from those mistakes. My CLS teachers and classmates were always incredibly supportive of my efforts, which gave me the confidence to persist and grow.
Prior to participating in CLS, I did not have much interest in food or cooking. However, once we learned culinary vocabulary and how to read recipes in Korean, I started cooking more than ever before. By the end of the program, I was able to share my favorite homemade recipe and food with my teachers.
Success in a Virtual Program
After the program, my friends and family were curious about CLS, and people reached out to me with questions on social media. I told them about all the amazing experiences I had and how much my Korean skills grew despite it all being virtual. Hearing about my experience motivated a few of my friends to study Korean as well. My friends from Korea were also shocked to see how much my language skills had improved and we now can have conversations together entirely in Korean.
Alumni Profiles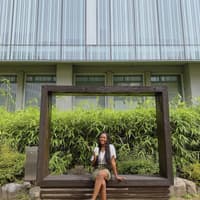 ---
---
Posted Date
May 10, 2021