Helen Jiang
Helen Jiang is an alumna of the 2016 CLS Indonesian program in Malang, Indonesia. She currently works for Independent Diplomat, a non-profit organization in international relations, and is a Children's Literacy Tutor with AmeriCorps' Reading Partners. Next year she will begin teaching university-level English through Peace Corps in China. She received her B.A. in international affairs with a concentration in Asia from The George Washington University in 2016. Helen's interest in other cultures and communities extends to her hobbies, which include learning to cook different cuisines, listening to foreign artists, and reading about historical linguistics or international affairs.
Why Indonesian?
I was greatly intrigued by Bahasa Indonesia's historical linguistics after writing a political biography on Indonesia's founding father, President Sukarno, for my Indo-Pacific Security Challenges class at GWU. What better way to gain a non-Sino/Australian/American perspective on Indo-Pacific security than to earnestly begin studying Bahasa Indonesia and living in Indonesia? That is where CLS' comprehensive immersion program came into the picture. The eight weeks I spent intensively studying Bahasa Indonesia continue to prove to be an immeasurable enrichment of my personal, professional, and intellectual pursuits.
Just Keep Swimming
When I reflect on my time in Malang, two memories come to mind: my fantastic host family and the rigorous yet realistic language study. My host father and host mother and their wonderful dogs, Annabelle and Yuri, provided a welcoming environment to help me quickly adjust to the CLS program structure, patiently answered my many questions about Indonesian political history and culture (and, conversely, American politics and culture), and alleviate any concerns about my Chinese heritage. In fact, my host family even took me to the local Confucian-Buddhist kelenteng and a parade of major Chinese-Indonesian community groups in Malang! Knowing that I had this support network helped ease any early frustrations, because I knew they would help me understand any cultural quirks or homework questions. Also the only Bahasa Indonesia that I knew before arriving in Malang was "selamat," "nama saya Helen," and "nasi goreng". Yet after 1 week, I was able to ask four people for directions, take a local minibus, make transactions, and get to the movie theater in time to meet up with CLSers for Finding Dory. My teachers focused on instilling confidence, practicing key dialogues, and reinforcing the "just keep swimming" attitude of perseverance!
Pleasant Surprises
Having concentrated in Asian studies, I was already aware of the history behind Chinese ethnic groups in Southeast Asia, Indonesia in particular, and the stigma or discrimination I could possibly face. However I was blown away by the hospitality, patience, and curiosity of the many Indonesians I met. My tutors made me feel comfortable among other young Indonesians, and my host family's friends and extended family asked many questions about overlapping Chinese and Indonesian customs. Soon enough, I worried less about how to navigate my identity as a young, outspoken, Chinese-American woman, and more about how to keep up with conversation or exploring Malang.
Words of Wisdom
Bahasa Indonesia is a fascinating language. Its history and sentence structure reveals a lot about Indonesia and its people, such as the popular usage of the passive voice and Indonesians' avoidance of direct confrontation. And Malang offers a cool respite from the humidity and heat, and it offers a rich environment to learn more about Javanese language and culture.
Alumni Profiles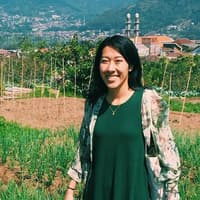 Helen Jiang
Indonesian 2016
Malang, Indonesia
---
---
Posted Date
March 28, 2017