Heleana Melendez
Heleana Melendez is an alumna of the 2015 CLS Russian program in Vladimir, Russia. She was born and raised in Los Angeles and is currently in her third year at UCLA, where she studies psychology in addition to Russian language and literature. She is a first-generation American (her parents are from El Salvador); she is also the first of her family to travel to the Eastern hemisphere. When she's not studying and traveling, she enjoys drawing, reading, and trying to convince her brother to learn another language, too.
Why Russian?
I originally just chose to study Russian in college to challenge myself and to join the Flagship Program on UCLA's campus. But after three years of studying the language, I have become fond of it. It has influenced my educational goals to the point where I want to achieve superior-level fluency in Russian. It has even begun to sway my career goals; I'm not sure what my path will be, but I know I would like to go to graduate school, work toward a career in either the Foreign Service or forensic psychology, and use Russian to start cross-cultural conversations and start breaking misconceptions while bridging cultures.
Growth spurts
I'd say the CLS program changed me for the better – I feel like I've grown so much as a person. Using the language at all times and learning in such an intensive environment was initially difficult, but I got used to it and was amazed by how much I'd improved by the end of the program. I am no longer afraid of making mistakes, and I am much more confident when speaking. The teachers at the KORA Center were wonderful and I'm grateful to have learned from them and had the chance to know them! The program also gave me an insight into Russian culture that I could never get through films or books, which has motivated me to also major in Russian.
On silliness and sisterhood
One of my fondest memories from CLS was an afternoon spent with my host sister and our friends. She and her friend invited a few of us to dance at a nearby park. We'd never danced in public while other watched, but it was a lot of fun. Afterwards, they showed us parts of the city we were unfamiliar with and we wound up at a fountain, where we played in the water like children. People would stop and stare as we played, and by the time we went home many thought we got caught in the rain. It may have been silly, but I really bonded with my host sister that day.
In a word…
My favorite word is "Кушай!" which means "eat!" It demonstrated my host parents' hospitality, as they often weren't satisfied until I'd had seconds or thirds. I also often heard "Чай, будешь?", or "will you have some tea?" I was pleased to note that tea was served with every meal and was often involved during long conversations with my host family.
Cultural crossroads
I hadn't realized how popular Latin American music was in Russia! Vladimir had dance "classes" during the weekends, where you could learn Merengue, Salsa, and Bachata.
If you had one day in Russia…
There is so much to see and do in Russia, but I strongly recommend that people visit my host city of Vladimir, which used to be one of the old capitals of Russia. There are so many historic buildings; it's hard not to get lost in them and the stories they tell.
Words of wisdom
Applicants, participants and alumni come from a range of backgrounds and cultures. While the program is demanding, it's important to remember to be mindful and respectful of others around you. But, with that in mind, don't be afraid of putting yourself out there – go explore!
Alumni Profiles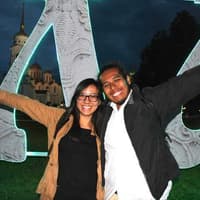 ---
---
Posted Date
May 03, 2016