Hannah Scholze
Hannah Scholze is an alumna of the 2022 CLS Russian Program hosted by American Councils in Tbilisi, Georgia. Hannah received a bachelor's in International Politics and a bachelor's in Global and International Studies with a minor in Russian from Penn State University. Hannah is a research analyst at the U.S. Department of State's Bureau of Democracy, Human Rights and Labor and uses her Russian every day to help venerate human rights norms in the U.S. and abroad.

Getting to Know Hannah
Hey, yinz! I hail from Pittsburgh, Pennsylvania, which is the largest city in Appalachia. It's a blue-collar city with incredible character that taught me that I'd have to work hard (uphill both ways) to try and achieve my goals. Growing up in southwest PA meant that I spent much of my time enjoying the great outdoors, especially during our prismatic autumns! I still love being outdoors (especially to roller skate), but I'm also a voracious reader of pretty much everything, with science fiction and world literature being my favorite genres (if I had to choose). I just moved to Washington, D.C. and have been enjoying discovering a new city while getting settled in at my job. So far, my favorite places are the National Gallery of Art and Capitol Hill Books.
Why Russian?
When I went to university, I began taking STEM classes with the hopes that a science degree would guarantee a secure career after college. However, after my first semester of math and chemistry courses, I was struggling immensely and felt little interest in my coursework. While studying engineering may have worked out for me, I did not feel excited about a future career in science. On the other hand, my general education courses in history, politics, and languages enthralled me. With a little push from my incredible Russian Language professors, I ended up falling down the rabbit hole, pursuing classes in Russian, Soviet and post-Soviet history, culture, and literature. By the time I graduated last year, I had become a Russia specialist, and I couldn't be happier!

A Swim Match at Tbilisi Sea
One of my favorite memories of CLS was at Tbilisi Sea, a massive reservoir and beach right outside the city. A group of CLS students and I went for a beach day when it was around a hundred degrees in the middle of July. A Georgian college student challenged me to a swimming race because he heard we were Americans and wanted to see how fast I was. After the race, we shook hands and started talking about Georgia, America, and our respective lives and cultures. It was a really fun, spontaneous moment that emerged from curiosity about one another's cultures. I was fortunate to have the opportunity to talk to all sorts of people in Georgia, whether they were Georgian, Armenian, Azerbaijani, Russian, Ukrainian, or any number of other nationalities. Often, people would assume where we were from based on our looks. I was often asked if I was Polish, one of my friends was mistaken for being Georgian, and so on. When people found out every person in our group was American, they were surprised at the diversity of the cohort. It was a great opportunity to talk about how "being American" is a different experience for every individual citizen, as our intersections affect the way that we live our lives and are perceived by others.
Why Should Others Learn Russian
If you have an interest in learning Russian, go for it! Don't be intimidated by the Cyrillic alphabet or the challenging grammar; learning a "difficult" language is extremely fulfilling. High risk, high reward! Russian is an incredibly beautiful language, capable of contorting in many different ways depending on what you want to say. As a result of its case system and grammatical rules, Russian language poetry and prose are uniquely beautiful and represent a triumph of utilizing a language to its fullest capacity. One of my favorite Russian words is божья коровка, which means ladybug. However, the ladybug is much beloved in Russia, and its name translates to "God's little cow". How endearing!
Words of Advice
Persevere! I applied several years in a row before finally being accepted to the CLS program in my senior year of college. It's a challenging application, but if you are selected as a finalist, the experiences you will have will surely be worth the time spent drafting essays. If you end up becoming a CLS scholar, make a point to spend as much time as possible talking to residents of your host country. You will learn the most from them, culturally, linguistically, and interpersonally. They are your greatest resource. And don't be shy! More often than not, they are excited to meet someone studying their language and are happy to get to know you.
Alumni Profiles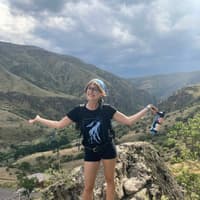 ---
---
Posted Date
March 28, 2023