Halcyon Ruskin
Halcyon Ruskin is an alumna of the 2017 CLS Azerbaijani program in Baku, Azerbaijan. In addition to Azerbaijani, Halcyon also speaks French and Russian. She recently graduated from St. Mary's College of Maryland with a bachelor's degree in French and international policy studies. Halcyon now works as a research associate at a company that provides research services in 23 languages. She is excited to be the first Azerbaijani speaker for her company and hopes to pursue a master's degree in Eurasian regional studies in the future.
Pursuing Passion in the Region
After studying Russian in Moldova, a former Soviet state, I was intent on continuing my studies in the Russian periphery. I chose Azerbaijan because I wanted to get to know the area through the locally preferred language. As someone who is interested in pursuing regional studies and potentially a career in journalism or research, I see community trust as being essential; using the local language is key to achieving that trust and building durable relationships. In addition, by not having to work through an interpreter or translated texts my analysis can be more authentic and accurate.
Defying Expectations
At one point late in the program, my host mother and I had a chance to talk about what our expectations of each other had been before the start of the program. My host mother said that she imagined an American girl to be a bit on the wild side and thought—based on a story she had heard from a friend—that maybe I would want to go bar hopping at night. She said that I defied this expectation; I spent most of my free time with the family, engaging in conversation, making American dishes for them to try, and playing with the children. In our conversations, I emphasized that the United States is very diverse, that there is no single definition of a typical American or a typical American experience.
Crossroads
Azerbaijan is an amazing place to study for anyone interested in crossroads. The country's history of foreign occupation has created a thorough blend of Eastern and Western cultures. The language has a lyrical sound and lots of fun suffixes. My friends and I were particularly fond of the word Mərtəbə, meaning "floor," because we always lost track of which /ə/ vowel sound we were on. To make it better, another vowel is added to indicate "on the floor" as in Mərtəbədə. Even better still, another vowel is added to say, "It is on the floor" – "O bu mərtəbədədir."
After Effects
After returning home, I raved about Azerbaijan's natural and cultural beauty, especially Azerbaijani hospitality. In my capstone research on the evolution of Azerbaijan's foreign policy, I emphasized how despite being a small state, relatively speaking, Azerbaijan has been able to achieve a lot of autonomy and has done a remarkable job of developing their national identity in a fairly short amount of time.
Alumni Profiles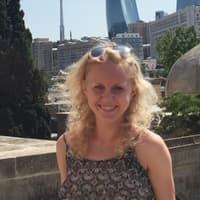 ---
---
Posted Date
July 23, 2018