Francesca Bagala
Francesca Bagala is an alumna of the CLS Russian Program hosted virtually by Lobachevsky State University of Nizhny Novgorod. Francesca graduated with a Bachelor of Arts in Political Science and International Studies with a concentration on Europe and a minor in Italian studies. Francesca is currently abroad in Rome, Italy working as a TEFL certified English teacher. Francesca hopes to become a lawyer with the ability to practice law in both the U.S. and Europe. She plans to use her language skills in Russian, Spanish and Italian to forge meaningful connections with her clients and better represent their interests.
Getting to Know Francesca
I was born in Santiago, Chile to an Italian father and a Chilean-Italian mother. At the age of four, we moved to Miami, Florida, the place I now call home. In my free time, I like to read, exercise, watch movies, and travel. I enjoy finding hidden gem restaurants and love hearing people's perspectives on anything having to do with history, literature, language, and culture. Being raised in Miami, I was constantly exposed to a melting pot of cultures that helped to foster my love for language learning. As an immigrant, speaking Spanish predominantly at home and English everywhere else, I came to understand the value of languages at an early age. My drive to serve as a bridge connecting culture motivated me to study Russian in college and eventually led me to applying to the CLS.
Why Russian?
My certificate in Eastern European studies really inspired me to learn Russian in college. At the time, I was majoring in international studies with a concentration in Europe and Italian. I decided that to be able to understand the history and culture of Eastern Europe I needed to familiarize myself with one of its languages. Russia with its vast history and interesting culture sparked my interest. I also believed that as a future lawyer, hopefully practicing human rights or international law, my knowledge of Russian would aid me in serving the Russian community and other Russian speakers.
Laughing and Bonding through Language Learning
My cohort was filled with fun, intelligent, and enthusiastic students that were just as eager to learn and improve their Russian as I was. I think my fondest memories will always stem from the cultural classes that I had with my fellow classmates. We grew so close that we became very comfortable making mistakes and learning from one another. In fact, we would laugh it off most times when we would make embarrassing vocabulary errors and even create inside jokes from them afterwards. I also had the great opportunity of having a language partner that truly went out of her way to make my experience a memorable one. I always looked forward to my meetings with her. We made sure to change it up every week so that I was receiving virtual tours of Russian cities, getting fun slang vocabulary sessions, and even culinary lessons.
Sharing her Hometown of Miami
The CLS Program helped me to close cultural gaps that I had from my Russian studies in college. It was so nice to be able to speak and interact with individuals living in Russia who could talk to us about their everyday lives. It is one thing to learn about it and another to live it. Even though I was an online participant of the program, I felt that I was still receiving very comprehensive lessons about Russian language and culture. In the same way, that I was curious about their daily activities, they were interested in mine. I gave my CLS language partner a brief tour of my hometown of Miami, FL and even engaged in some slang and talks of common customs and traditions to give her a better sense of where I come from. I strongly recommend the CLS Program to all the language learning lovers I know. It pushes you to your maximum potential, but it also rewards you in ways that you never thought possible.
Why Should Others Consider Russian?
Russian is a beautiful language that is both rewarding and challenging to learn. It is a country with such a vast history and culture that many do not know about it. For instance, one may not think about regional accents or dialects when it comes to the Russian language but through various cultural conversations throughout the program we got to hear and practice regional dialects. I also believe that the Cyrillic alphabet is fascinating, and it is rewarding to be able to read and understand an alphabet so different from your own.
Words of Advice
As cliché as it sounds, be yourself. Do not write what you think the reviewers want you to write. Be genuine and truly express why you want to study your target language. Do research to help spark your interest. You'll be surprised at how much you learn about the regions where your target language is spoken. Whatever you are passionate about, write about it, no matter how small. If you let your passion shine through, your application will be golden. Remember that learning a new language opens many doors, not just for you but to the people you will impact later on. There is nothing more meaningful than to be able to make someone feel represented and heard. What you are doing is important and so vital to connecting with the global community. Good luck!

Alumni Profiles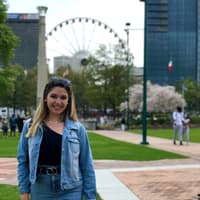 Francesca Bagala
Russian 2021
Nizhny Novgorod, Russia
---
---
Posted Date
July 08, 2022