Ezra Baker
"Language learning will always be a part of my life. I am so grateful for the doors that the CLS Program has opened for me ."
Ezra Baker studied Economics and French at Ohio State University, and wanted to broaden his horizons to learn a more challenging and less commonly taught language. When he heard of the CLS Program, he applied for to study Arabic because he knew that combining Arabic and French would allow him to gain access to other countries across Africa and the Middle East, and would help him with his future career. Ezra was awarded the Critical Language Scholarship to study Arabic in 2015 in Madaba, Jordan.
"The CLS Program helped me further my goal of working with Arabic by improving my language abilities and gaining experience living in the Arab world. It also led to more job opportunities such as being the Resident Director in 2018 in Tangier, Morocco."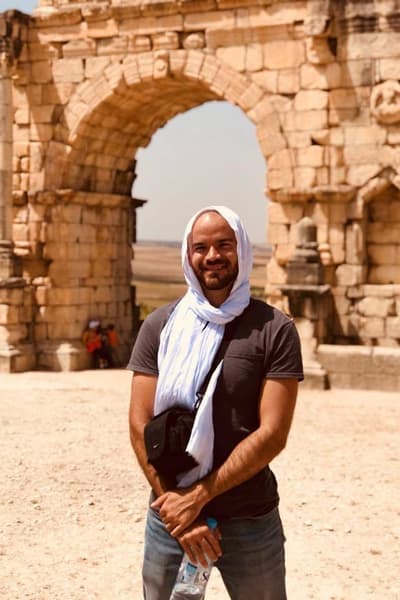 After Ezra finished his summer as Resident Director with the CLS Arabic program, he was hired by the CLS host institution, the Arab American Language Institute in Morocco (AALIM). While in that role, he was able to work closely with the CLS Resident Director. It was important to him to become familiar with a different professional culture, communication style, and negotiating skills to be able to adapt to any working environment.
He is now a graduate student at Columbia University with plans for a career in international development. He is also studying Swahili in order to gain more access to East Africa, and enjoys discovering the similarities between Swahili and Arabic.
"Working in development will be a career shift for me, to be sure, but I will still use the language and adaptation skills that the CLS Program cemented for me. I would definitely be in a different place in my life and career without the CLS Program."
Alumni Profiles
Ezra Baker
Arabic 2015
Madaba, Jordan
---
---
Posted Date
June 01, 2020