Ethan Jewell
Ethan Jewell, an alumnus of the 2018 CLS Korean program in Gwangju, South Korea is a current student at the University of Texas at Austin, where he is studying International Security with a focus on East Asia. Ethan is spending his spring 2019 semester attending the International Chinese Language Program in Taiwan. In the future, Ethan plans to obtain a graduate degree in Security Studies or Public Policy and pursue a career in the Foreign Service using his CLS language.
A Self-Starter
I started studying Korean as a hobby in 2016 when I stumbled onto a website (howtostudykorean.com) that introduced the language from the roots and built up to more advanced material. I found the grammatical structure and unique alphabet of Korean fascinating. I studied Korean in my spare time for about eight months before landing an internship with the State Department in Korea.
Hangul is the only true featural alphabet, which means that the consonants were actually designed to mimic the shape of the speaker's mouth during pronunciation.
A Memorable Musical Night
One night, a language partner invited me and other CLS participants to a practice session for his band. It was a traditional music group that performed pansori (판소리). They gave us a personalized live performance in their studio where they performed both modern and traditional tunes. Afterward, they gave each of us an instrument and taught us a simple song. Although our cohort was not full of talented musicians, we had a great time and enjoyed some of the most genuine expressions of Korean culture.
Sharing Culture
I often shared elements of American life with my host family over dinner, including everything from table manners to American politics. We also discussed elements of American family life, such as parents' expectations of their children and vice versa. At home, I have been able to share my CLS experience more explicitly.
A Linguistics Perspective
I would recommend studying Korean to anyone interested in linguistics. Korean is an agglutinative language, which means that ideas are created by adding suffixes to root words. For example, "해" and "하시겠습니까" both mean to "do" something, but the former is an informal command and the latter is a question in the future tense with a high degree of respect. The Korean alphabet is another interesting part of the language. Before Hangul was invented by King Sejong, Korean elites used Chinese characters to write in either Classical Chinese or a variety of systems that utilized Chinese Characters to create Korean words.
Fun Facts about Ethan
I grew up in Arlington, Texas, a lesser-known suburb southwest of Dallas. One of the most interesting things about Arlington is that it is home to some of the most successful bodybuilders in the world. Fitness became an integral part of my life during high school, and if I drove down the street I could train alongside some of the best in the world such as Ronnie Coleman, Branch Warren, Jonnie Jackson and many others. My father also instilled in me a love for hiking and camping.
---
CLS Alumni Ambassadors are recent CLS participants who take leadership roles as active and positive representatives of the CLS Program by engaging with CLS alumni and representing the program to various audiences. If you would like to get in touch with a CLS Alumni Ambassador, please contact clsalumni@americancouncils.org
Alumni Profiles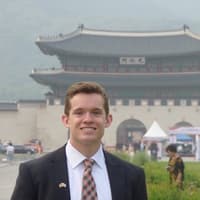 Ethan Jewell
Korean 2018
Gwangju, South Korea
---
---
Posted Date
May 06, 2019