Esther (Song) Raposa
Esther (Song) Raposa is an alumna of the 2022 CLS Korean program hosted by Pusan National University in Busan, South Korea. She recently graduated from the University of Guam with a bachelor's in Linguistics with an emphasis in English for Second Language Learners (ESL). Esther hopes to work as a Korean language analyst for the federal government and begin a rewarding career in the civil service.

Getting to Know Esther
I was born and raised on Guahan (Guam) to Korean immigrant parents. My hobbies are free-diving, crochet, and crafting. Growing up on Guam, I was introduced to a melting pot of cultures. Everywhere you look you see diversity. My interest in learning Korean comes from a desire to communicate with my Korean speaking family in particular my grandmother. Similar to many Korean families, I lived with my extended family. My grandma took care of me and raised me while my mom juggled three jobs.
Why Korean?
While Guam is an ethnically diverse island, I didn't always feel accepted for being Korean. I lost my connection to the language for a couple of years. I applied to the CLS Program because I wanted to rekindle my connection to Korean language and culture.
Embracing the Unexpected
A favorite memory from my CLS experience is when I went to an inflatable waterpark for the first time with my fellow CLS participant Bella. We went in June, expecting it to be summer vibes (warm water, blazing sun, etc.). Instead, we were greeted with cold water and dreary weather. Although the weather and temperature were not on our side, we decided to go through with our plan. We ended up having a great time and made an unforgettable memory. The takeaway: don't let unexpected circumstances change or ruin your plans in your host country.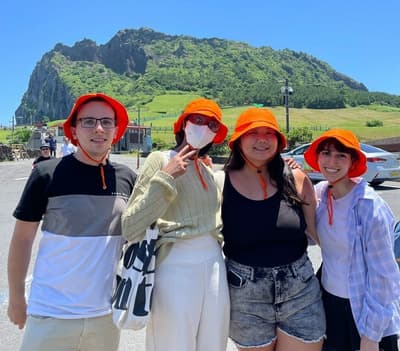 Expanding Perspectives
Guam has a reputation in Korea for being a honeymoon destination. I was able to broaden Korean people's understanding of Guam. I shared with students and instructors at my host institution and members of my cohort all the different and adventurous things Guam has to offer. One of the program coordinators from Pusan National University had visited Guam and I was able to have a great discussion with him in Korean about his trip. Afterwards he mentioned how he wanted to return to Guam.
I could also tell that people were curious back home about what I was doing in Korea during the summer. I was able to educate my friends on a language immersion program available to them as students on Guam and share the phenomenal experiences I got to partake in (stamp making, traveling around Korea, just to name a few!)
Why Should Others Learn Korean?
While all language learning is valuable, the reason why I would recommend Korean is that there are so many opportunities to connect with Korean speakers, especially on Guam. Guam is known for its tourism and because the Korean market is so big, hotels are always in need of Korean speakers. There are many opportunities to apply the target language in the workplace after you take part in CLS. My personal favorite phrase in in Korean is 밥 먹자 (bap meokja) which translates to "let's eat".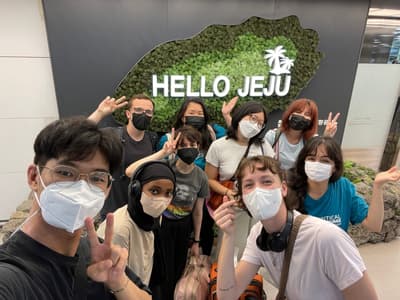 Words of Advice
Believe in your words in your application and, most of all, believe in yourself.
Alumni Profiles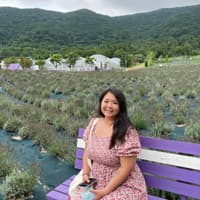 ---
---
Posted Date
February 17, 2023