Ermida Koduah
Ermida Koduah is an alumna of the 2016 CLS Arabic program in Tangier, Morocco. She is currently a senior at the University of Albany and will be graduating with degrees in political science and globalization studies. After she graduates, Ermida plans to either work for an NGO or join the Foreign Service. She also plans on pursuing a master's degree in international development. Ermida was born in Brescia, Italy to Ghanaian parents and moved to the Bronx when she was four. This has had a profound impact on her personality and her love for studying other cultures and travelling.
Why Arabic?
In my freshman year of college, I took a class on human geography and learned that Arabic was one of the top five languages spoken throughout the world. I knew that I wanted to pursue a career that involved international relations and therefore Arabic would be perfect. I took my first Arabic class when I studied in Dubai and enjoyed every moment of it.
In a Word…
The word جامعة ("Je-me-iah") means university and stems from the word اجتمع ("Ij-Tee-Mah") which means to come together. In universities, we come together to learn.
Unplugging in the Sahara
A memorable event during my CLS program was our weekend trip to Merzouga, where we spent the night in the Sahara Dessert. When I first heard about the trip, I thought I would hate it because I was never a big fan of nature excursions. However, it was one of the best experiences of my life. Being disconnected from the world for about 24 hours and spending time in the sand dunes was amazing. I spent the night gazing at the stars and speaking with the Amazigh who lived in the desert.
Finding Strength in Being Different
Being a black woman in Morocco was a bit of a culture shock for me. I thought being black in an African country, I would be able to fit in or at least not be noticed but it was the complete opposite. I would often get stares, people sneaking up to me to pull on my twists, or hear racial slurs. Dealing with this almost every day was a great challenge for me. However, I overcame this challenge by reminding myself that some people are just curious about my purpose in their country, and wanted to know more about where I was from.
Words of Wisdom
I would defiantly recommend Arabic because the language is very poetic and each word has so much meaning behind it.
Alumni Profiles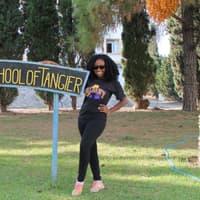 Ermida Koduah
Arabic 2016
Tangier, Morocco
---
---
Posted Date
March 28, 2017