Erin West
Erin West is an alumna of the 2015 CLS Turkish program in Bursa, Turkey. She is originally from Pittsburgh, and although she loves that city, she doesn't plan to settle down there any time soon! She is currently in her second year at Brown University, where she studies development. When she has time to take a break from thinking critically about world systems, she loves Couchsurfing, riding her purple bike along the coast, listening to podcasts, and drawing (badly).
Why Turkish?
I first started studying Turkish when I spent my gap year living in Istanbul. I became fascinated with the language, history, and politics of Turkey. Soon, I knew I wanted to go back again and again. Studying critical development theory in college has given me a new lens through which I can think about Turkey and its complex modern climate. I am particularly interested in how women's collectives can provide alternatives to traditional gendered development projects, and I plan to do thesis research on women's organizations in Istanbul for my Development Studies degree. In the future, I want to work within development with a focus on women's rights and solidarity movements. I also hope to use my Turkish to engage with the current migrant crisis—much of which flows through Turkey.
The path less traveled
Participating in the CLS program in Bursa was particularly important for me because it gave me a different view of Turkey than Istanbul did. Distinct from other more tourist-oriented abroad programs, the CLS Program intentionally aims to give participants a fully immersive experience in their host country. Living with my host family in a less-traveled area of Turkey gave me the unique opportunity to fully engage with the language, people, and daily life of my host country.
On community
I was in Bursa during Ramadan, and even though not everyone strictly fasted, the whole city participated in Ramadan traditions like night festivals, huge iftars (feasts), and no one ate or drank in the streets out of respect for the fast. I was impressed with how this practice seemed to bring the whole city together and create a strong sense of community.
To market, to market
My favorite part about being in Turkey was going to markets! I wandered through the Bursa market daily, gazing at hundreds of colorful fresh fruits, vegetables, nuts, and cheeses. Food in Turkey is more often local, fresh, and sustainably produced than the U.S. grocery stores I am used to.
What's in a pet name?
I really love all the Turkish pet names, like şekerim ("my sugar"), tatlım ("my sweet"), canım (literally: "my soul"). People use them liberally and even with strangers.
If you had one day in Turkey…
One of the most beautiful places I have ever been is Hasankeyf, in South Eastern Turkey. It is an ancient town on the Tigris River that is filled with history yet still has a vibrant community today. I also loved hiking in the south on the Lycian Way. For three days, two friends and I walked along the coast in and out of beaches, mountains, forests, and fields. It was such gorgeous scenery and was worth all our sweating in the heat!
Words of wisdom
If I were to advise a new CLS participant, I would say to leave your pride at the door! Learning a language is messy, frustrating, full of missteps, and you have to go through those stages to get to the beautiful, fun, rewarding parts of speaking a language. Look at mistakes as necessary rungs on the ladder; embrace them and laugh at them!

Alumni Profiles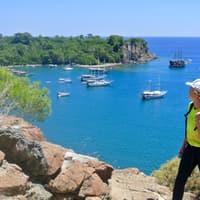 Erin West
Turkish 2015
Bursa, Turkey
---
---
Posted Date
May 03, 2016