Erin Smith
"I never would have predicted the career I'm in today. CLS helped to put me in the circles I needed to be in for it to fall into place."
As an undergraduate student at North Park University, Erin Smith studied music, but also chose to focus on courses on subjects that interested her like intercultural studies, conflict resolution, and language. North Park University's location in an Arabic-speaking neighborhood sparked Erin's interest in learning the language. In 2011, Erin was awarded a Critical Language Scholarship to study in Amman, Jordan. At the time, she didn't know it would be the start of something big.
"On the CLS Program I gained a comfort level with being in predominantly Arab or Muslim environments. I learned how to use Islamic sayings in a natural way, about Islamic prayer and what to wear to the masjid, when to bring a gift and when take my shoes off. I still have a lot to learn but I'm so grateful for the foundation I got from the CLS Program."
After the program in 2012, Erin began working for New York fashion startup Haute Hijab as it's first employee. Now the business has grown to be the leading US hijab brand headquartered in New York City with plans to increase their presence in the Middle East/North Africa (MENA) region.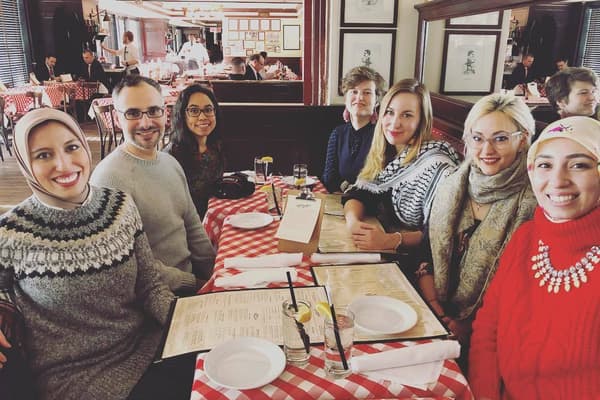 Haute Hijab staff
"Speaking Arabic or being Muslim aren't prerequisites to do the work I'm doing, of course, but I would never have known about the opportunity in the first place without CLS bridging me to those communities. Nor do I think I would have had the intercultural and interfaith literacy needed to be successful in such a unique company without the experiences I had in Jordan."
As an American, Erin felt that her role on the CLS Program in Jordan was to be a good guest, be kind and to learn. Back in the United States, she inhabits a unique space, not being Muslim or hijabi herself, yet working for such a high profile hijab brand. She is often asked how she came to do the work that she does, which gives her many chances to share her experiences or address some of the common misconceptions many people still have about Arabic cultures, Islam, or hijab.
"Whether in a personal or professional capacity, what drives me as a person is a desire to help cultivate greater understanding and normalize those who have been marginalized or othered. If I can help my fellow Americans to see Jordan and the broader region in a more nuanced way, to understand it really is just another place with good and bad like any other – then I feel I am living up to that purpose."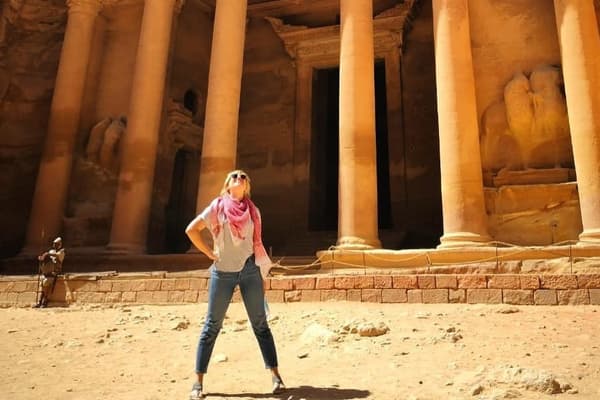 Al-Khazneh or 'treasury' in Petra, Jordan
Alumni Profiles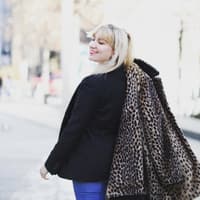 ---
---
Posted Date
November 19, 2019