Eram Mallick
Eram Mallick is an alumna of the 2019 CLS Urdu program in Lucknow, India. She's currently an undergraduate student at Brown University, studying Economics. Eram plans to use her Urdu skills in her professional career focusing on international economics in non-profits. She enjoys experimenting with new dessert recipes and running.
Unique Perspective of a Heritage Speaker
Growing up in the Washington D.C. area, I was surrounded by South Asian culture. I was raised as a bilingual speaker of Urdu, but never got to experience an immersive environment where it was the default language before the CLS Program. I grew up speaking a dialect of Urdu that came from my family's ancestral city of Hyderabad. However, I was eager to speak another dialect of Urdu and to learn to read and write in order to utilize these skills in a professional setting.
Learning a language as a native speaker poses its own unique set of challenges. One of the largest challenges for me is taking the step from deep familiarity in a familial context to grammar, syntax, and sentence structure in an academic setting, bridging the gap between a natural and a formalized learned skill set. My instructors during the CLS Program were incredibly supportive and they tailored the lessons to fit my individual needs. I made more language progress in those two months than I ever thought was possible.
A Passion for Studying Urdu
I was inspired to study Urdu because of its widespread use and rich history. The history of Urdu makes it unlike any other language in the region where it is spoken; it is an Indo-European language, making it the perfect blend of the languages in the region. To learn Urdu is to learn South Asian history and the genesis of modern South Asian culture as we know it today. Additionally, South Asia has the highest concentration of non-profit organizations in the world, which I hope to work with in my professional career.
Furthermore, Urdu gives you the foundation to be able to pick up other commonly-spoken languages such as Arabic and Persian since there is a lot of overlap in the script. There are also many commonalities in the speech between Hindi and Punjabi, dramatically increasing the number of people you can connect with.
Urdu poetry, otherwise known as Shayari, traveled with the language to form concentrations of Urdu-speaking populations scattered throughout South Asia, such as my parents' hometown of Hyderabad. The diaspora of the language to create these seemingly random isolated concentrations fascinates me. Additionally, colloquial Urdu is virtually indistinguishable from modern Hindi, however the pure language is kept alive through poetry for its beauty rather than function.
Celebrating an American Holiday Abroad
This was the first time in my life that I celebrated the 4th of July, one of my favorite holidays, away from my home country. Typically, I celebrate with a barbeque by the beach surrounded by family and friends. Located thousands of miles away from home, my cohort and I celebrated with an Indian twist: for lunch we ordered chicken tikka pizza and wore red, white, and blue to class. After class, we all met at a rooftop pool to eat some legendary Lucknowi kabobs and lounge by the pool, creating our version of home in Lucknow with our CLS family. It meant a lot that everyone in the cohort, experiencing a similar homesickness, made an effort to celebrate this holiday while thousands of miles away from home. Through the CLS Program, I know I have made some lifelong friends and memories.
Professional Goals
I plan to go into the field of consulting in order to drive actionable change and I intend on harnessing my language skills to navigate untapped Asian markets. Eventually, I would like to pursue an MBA degree, with a focus on international economics to contribute to the non-profit space.
A Word to Applicants
I am so grateful to the CLS experience for the friends, education, and newfound passion it has given me. I really encourage everyone to apply for this opportunity; please reach out to me to learn more about CLS and what it's like being a native speaker.
Alumni Profiles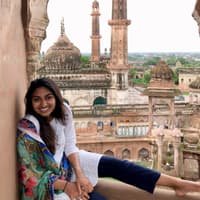 Eram Mallick
Urdu 2019
Lucknow, India
---
---
Posted Date
April 29, 2020