Eileen Calub
Eileen Calub is an alumna of the 2020 CLS Turkish virtual institute hosted by TÖMER Institute in Ankara, Turkey. She's currently studying linguistics and international studies at the University of Florida, with plans to graduate in 2022 with her bachelor's degree.
Getting to Know Eileen
I was born in the city of San Pedro in the Philippines and when I was five years old, my family immigrated to the United States. I grew up in Lexington, Kentucky, and Orlando, Florida. In my household, we spoke Tagalog and English. Sometimes, we spoke a mix of the two, called "Taglish."
I love creative writing, traveling, cooking and trying new recipes, and learning foreign languages. At first, learning languages felt like a fun way to escape the monotony of daily life, much like fantasy novels, but going abroad made me realize how essential foreign language learning is to creating connections between people of different backgrounds.
Why Turkish?
I spent a gap year in Germany on the CBYX Program, which is when I was first introduced to Turkish language and culture, as there aren't many Turkish people where I grew up in Florida. Turkish was unlike any other foreign language I had ever been exposed to, and I was intrigued. Turkish culture also grew on me—as an immigrant myself, I felt a kinship with the Turkish migrants in Germany. When I transferred to the University of Florida, I originally planned to continue my German, Mandarin Chinese, or Russian studies, but it was the first time I would be attending an institution that offered Turkish. I thought that might be the only chance I would have to learn Turkish, so I went for it. That's when I really fell in love with Turkish culture and made it my goal to learn the language and one day travel to Turkey.
The warmth of Turkish culture is indescribable - it must be experienced, and one can only truly experience the richness of it through the Turkish language. One of my favorite sayings in Turkish is "damlaya damlaya göl olur." That means "drop by drop becomes a lake." Learning a foreign language is hard. One of my Turkish teachers would say "damlaya damlaya göl olur" to encourage us that our efforts would in time amount to something great.
Future Pursuits
As a rising senior, I plan to write a thesis on the subject of Turkish migration to Germany. The people and cultures of Germany and Turkey are both close to my heart, so I hope that my skills in these two languages will be of use as I conduct research and attempt to draw comparisons between the U.S. immigration system, which my family went through, and the German immigration system.
After graduation, I hope to teach English abroad, perhaps in Turkey, for a year or two. Then, I will pursue a master's degree in international affairs as I ultimately aspire to become a Public Diplomacy Officer in the U.S. Foreign Service.
Impacts of the Program
It's the small moments on the CLS Program that stick out to me—I'll never forget how my Turkish teacher would spend one-on-one time with each of her students. At first, I was so afraid to make mistakes, but these more private sessions helped me feel more comfortable with her and I opened up. Those moments remind me that each time you use your language kills to connect with someone whose native language is not English, the time and effort you put towards learning that language feels worthwhile and the reward is tangible.
I've been eager to share things about Turkish culture on social media, such as food or music, because I feel that in the United States, Turkish culture is underappreciated. I love visiting and promoting Turkish restaurants in Orlando, like Bosphorous and Zeytin Turkish Cuisine. Introducing friends and family to Turkish food is incredibly gratifying. I hope to host sessions at my university leading up to the opening of the CLS application to encourage students to study Turkish. I am open to talking to anyone about CLS or Turkish, as the CLS Program has changed my life.
Alumni Profiles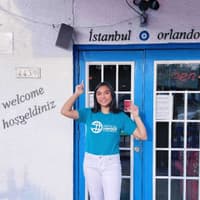 Eileen Calub
Turkish 2020
Ankara, Turkey
---
---
Posted Date
May 10, 2021