Derek Sherrange
Derek Sherrange is an alumnus of the 2022 CLS Hindi Program hosted by American Institute of Indian Studies (AIIS) in Jaipur, India. He is a senior at St. Lawrence University and a double major in global studies and combined international economic-multilanguage. Derek hopes to use his Hindi language skills to contribute to advocacy work on the topic of land and food sovereignty.
Getting to Know Derek
I grew up in a small town in Upstate New York called Argyle. I became interested in language learning because growing up I didn't know Spanish and that was the only language my grandparents spoke. I was impressed by the way my family members who were bilingual could switch between Spanish and English with such ease. This incentivized me to learn the language and I saw how language opens opportunities for connection and for understanding different ways of knowing.
Why Hindi?
I wanted to study Hindi because I had spent some time in India doing agricultural research during my first year of undergrad and I had to use a translator to do interviews for the project. I knew I was missing out on so much of what the interviewees were saying as the translator repeated it to me in English. I decided if I had any plans to return to India, I should learn Hindi. I knew that Hindi would give me a sense of the cultural nuances that I was missing and that it would help me understand the country I was spending time in better.
Rickshaw Learning Moment

There was a time when I was trying to get a rickshaw to go back to my room with another CLS student. Numbers have never been my strength while learning Hindi. There was a misunderstanding about price, and I could hear the driver talking on the phone to someone about how he had picked up some foreigners and they were going to pay him 400 rupees for the very short ride. He was making fun of the price we were willing to pay to his friend, when to his surprise I interjected and told him there must have been a misunderstanding. He looked baffled that I had understood, and we ended up paying the normal "videshi" rate. Although that didn't make learning numbers any easier, it provided me with a lot of motivation to study!
A Vibrant Queer Community in India
I have not been settled in one place for a long time, but as a queer person, when I think of what the word community means to me, I think of the global LGBTQIA+ community. Whenever I enter a queer space in a new cultural context, I learn so much about myself, about the queer community, and about how the broader fight for queer liberation is playing out in different contexts. My time India during CLS was no different and I exchanged a lot of information with fellow queer people in India about 'queer culture' in the U.S. and likewise they showed me what it means to be queer in India. This is information I brought back to my community of friends here in the United States. I think there is a perception that in most places outside of North America and Europe, the LGBTQIA+ community is secluded and criminalized. While it is important to acknowledge that these things are true in some cases, there are many others, like India, where there is a vibrant queer community that is working openly to gain broader societal acceptance. This is a perspective I have been sharing with people in my community.
Why Others Should Learn Hindi
Hindi is a gateway into learning so much about Indian history and present-day society. If anything about India interests you, past or present, I would recommend learning Hindi. Many Hindi words have their roots in ancient Sanskrit texts. One of my favorite words in Hindi is shanti. Its direct translation is "peace", but it also has much broader connotations and can be used to refer to a deeply personal inner peace or a call for world peace.
Future Goals
I am planning to attend law school or a Ph.D. program, degrees which I want to use in part to do advocacy work on issues of land and food sovereignty. The advocacy work being done in India currently is at the forefront of tackling these issues and I know I will use my Hindi skills to engage with the people who are leading these efforts and gain insight that I can apply to my own advocacy work.

Words of Advice
Every application process is an opportunity to develop your writing skills and learn something about yourself. Just put your best effort into writing your application, be authentic, and it will pay off. The best word of advice I can give to crafting the best application possible is to get as many people as possible to give you feedback.
I would also say that in thinking about applying to CLS, there are many considerations. As a low-income student, one of them for me was the fact that I would not be earning any money over the summer. I would say that this is a once (or twice if you win the award a second time) in a lifetime opportunity and your university may offer supplemental funds for people participating in summer activities. So don't let that aspect discourage you before you explore all your options!
Alumni Profiles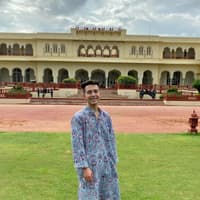 ---
---
Posted Date
March 27, 2023