Dana Fager
Dana Fager is an alumna of both the 2011 and 2012 CLS Japanese programs in Kyoto, Japan. She grew up in a suburb of Chicago and currently serves as the Development Coordinator at the U.S.-Japan Council.
Why Japanese?
Having been born and raised in a suburb of Chicago, I had no connections with Japan outside of occasionally dining at Japanese restaurants. Therefore, I think I greatly surprised my family when I started studying Japanese! I chose the language in order to learn about and contribute to the alliance between the United States and Japan, particularly within the realms of business and trade. In my current position as the Development Coordinator at the U.S.-Japan Council, I aim to broaden the network of Japanese and U.S. businesses interacting with each other. This way, both countries can benefit from increased opportunities for business and collaboration.
Learning a language takes a village
My favorite part about being in Japan was the people. Hospitality is an important concept in Japan; host families are eager to teach their students more about Japan, language partners are friendly and always show the CLS participants a good time, and language instructors are dedicated to teaching as much as possible in eight weeks! Because of them, I could immerse myself in Japanese culture and intensively study the Japanese language, greatly improving my language skills and deepening my cultural understanding in a very short time. My current and previous employers have hired me in part because of my language skills and cultural knowledge!
A universal language
Even when my language skills were next to nothing, I always found ways to communicate with those I met in Japan. Having played the violin and studied voice for many years, I find music to be a great alternative method of communication. I kept up my violin playing and singing during both summers in Kyoto and made many new friends this way!
Living in harmony
In 2011, I stayed with a host family that left the doors to the house open during the stiflingly hot summer to let in cool breezes. Unfortunately, this meant that mosquitoes could enter the house, and I was bitten often. Although I was hesitant to ask for the doors to be closed at first because I did not want to disrupt my host family's normal routine, I finally plucked up the courage and asked. My host family was willing to accommodate my request, and I compromised by wearing long pants at home – even in the 90-degree heat! This is a fond memory because it demonstrates how study abroad broadens our minds and encourages us to see things from another's point of view. I realized how much importance Japanese people place on the group – a big difference from the United States, where individual needs and wants are given higher priority – and I have come to admire how Japanese people carefully consider the comfort of others and go to great lengths to create a harmonious group atmosphere.
Being houkouonchi
My favorite Japanese phrase is "方向音痴," pronounced hou-kou-ohn-chee. It means to have a bad sense of direction and to easily get lost. Although this applies to me, I think of getting lost as a good thing – it means that I was out and about exploring my host city!
If you had one day in Japan…
The Gion Festival that takes place every summer in Kyoto is a must-see festivity! For those studying in Shiga, I recommend visiting Lake Biwa, which boasts an idyllic summer scene and exciting lakeside entertainment. Shiga Prefecture is also known as a former stronghold of ninja clans, and cities such as Koka contain museums that cover this intriguing aspect of Japanese culture.
Words of wisdom
Prospective applicants: thoroughly answer each question on the application! This sounds simple, but you would be surprised by how many people do not do this.
Current participants: start the program with as few expectations as possible. Simply anticipate having the time of your life!
Alumni: consider how you can build on the wonderful experiences you had on the CLS Program in order to give back to the CLS community as a whole – through organizing an alumni get-together, by giving a presentation to prospective applicants, or by sharing your advice with next year's group of participants.
Alumni Profiles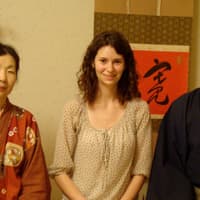 Dana Fager
Japanese 2011
Kyoto, Japan
---
---
Posted Date
May 03, 2016