Chirine Yamout
Chirine Yamout is a two-time alumna of the CLS Chinese Program having participated in the CLS Chinese Program in 2021 and 2022 hosted by Tamkang University in New Taipei City, Taiwan. Chirine received her bachelor's in International Relations with a certificate in Chinese studies from Florida International University where she also currently works as an Academic Coordinator for FIU Global First Year. After finishing her master's, Chirine hopes to work for the federal government. Her end goal is to become a Foreign Service Officer with the U.S. Department of State.
Getting to Know Chirine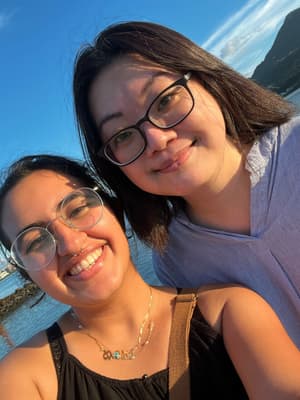 I was born and raised in Beirut and Nabatieh in Lebanon. I immigrated to the United States at the end of 2016 after graduating high school. I currently speak five languages, almost all of them fluently, and I am learning two more. I am fascinated by the diversity of cultures that exist in the world, and I wholeheartedly believe that learning language gives you access to dive deeper into understanding and exploring it in a more personal way. I'm always eager to learn something new. I'm a jack of all trades. I read, play the guitar, draw, and love learning languages. Lately my favorite thing to do has been to practice Arabic and Chinese calligraphy. My interest in Calligraphy started when I was in Taiwan and had a Hanzi calligraphy session with my Taiwanese friends.
In Lebanon, we learn three languages from the moment we start school which gave me a head start in my journey to become a polyglot. When I moved to the United States, I met so many people from different backgrounds. I wanted to be able to connect to them and to their families in a way that I appreciated when others did to me and my family. I learned Spanish to be able to communicate with my best friend's mom, just like she learned Arabic to connect with mine. Languages are a bridge to connect people on a deeper level and make people feel welcome.
Why Chinese?
When I decided to study International Relations, my initial area of study was going to be Europe, and I originally signed up to learn German. However, in 2019, I had the amazing opportunity to be a part of a diplomacy delegation to China with the International Scholar Laureate Program. After that trip, I immediately dropped German and signed up for Mandarin. I knew that I want to learn more about the complexity of Chinese history, culture, and politics. I wanted to continue with Chinese after my undergraduate studies so I could use sources in Mandarin in my master's thesis.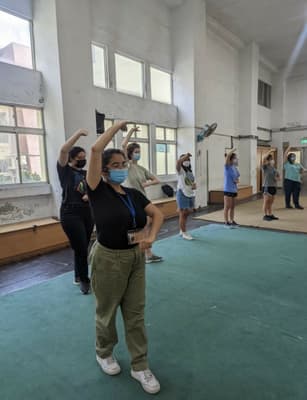 An Emotional Reunion
My entire experience in Taiwan has been a magical one to say the least. I can think of hundreds of stories to tell from both of my experiences with CLS. However, the one that stands out to me the most is when I got to meet my teacher from the 2021 virtual program. In 2021, when I got the email informing me of moving the program online due to a Covid outbreak in Taiwan, I was devastated. I was so excited to go and experience the culture in person. I did not know what to expect. While I was sad that I didn't get the chance to meet my teachers and language partners in person, I still had an amazing experience. When I finally had the chance to go to Taiwan with CLS in 2022, I reached out to my teacher from the 2021 program and asked to meet. Luckily, she was still in Taiwan and agreed to meet me.
Meeting her in person for the first time was a very emotional moment. I spent three months with her, communicating daily. We already knew each other. She showed me around her favorite places in the city of Tamsui. She took me to the lover's bridge at Tamsui Fisherman's wharf where she told me stories of her memories there. She helped me reach a level of fluency that no one has pushed me to have. She cried saying how proud she is to hear me speak like this after the program. I will forever cherish that day.
Sharing Lebanese Culture In Taiwan
I was able to teach people around me about the mix of both Lebanese and American culture. We watched movies together; we shared slang that we started using in our daily interactions. For many of the people I met, it was the first time they've ever met a Lebanese person. I was more than happy to teach them and tell them stories about that part of the world. When I came back to the states, the first thing I did was cook food that I learned how to make in Taiwan for my family and friends. I taught them new Mandarin words that are unique to Taiwan. And of course, gave them gifts that held stories from the culture and history of Taiwan.
Each Character Tells a Story
Mandarin is one of the most difficult languages in the world. That almost stopped me from learning it, but instead I used it as motivation. It's a beautiful, complex language that holds a beauty that other languages simply lack. It is one of the most ancient languages in the world, and with learning the language comes the knowledge of Chinese history and culture. Each character tells a story, like the character for love 爱 (ai) for example, the radicals on top Zhǎo (claw) and Mì (cover) and the radical on the left side is Yǒu (left) with the bottom being yòu (right hand). The explanation is that the claw of love bonds the people on the left and right by putting a lid over them. The traditional character has the radical for heart, which was removed for the simplified version.
Words of Advice
Be prepared. No matter how much you think it's intensive, double it. It is not a program where you can wing your classes and exams. It should be taken very seriously and be provided with great dedication. You have to commit to the language pledge, it will be the only opportunity in which you will have this type of access to the language, so take advantage of it, and have fun with it!
Alumni Profiles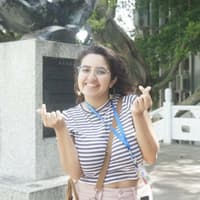 ---
---
Posted Date
March 29, 2023