Caitlin Scholl
Why did you want to study your CLS target language?

My research is focused on West African literature and film. When I first began studying Arabic, then, I was interested in it primarily as the classical written language of the Sahel—I wanted to be able to access the Timbuktu manuscripts, a vast archive of medieval and early modern texts written in Arabic (or, sometimes, in West African languages in Arabic script) and stored for centuries in family libraries throughout the region (http://www.tombouctoumanuscripts.org/about/history/). The longer I studied the language, though, the more interested I became in Arabic as a living, spoken language, and the more interested I became in the trans-Saharan connections of today, particularly those involving Morocco.
What are your educational and/or professional goals?
I am currently working on my dissertation, which compares recent Moroccan novels and films in Arabic with sub-Saharan texts in French, English, and Bambara/Bamana (one of the main languages in Mali). After I finish my PhD program, insha'allah I will continue working in academia, researching these areas and teaching my students about them.
How do you plan to use your target language in the future?
In addition to my professional goals, I have the short term goal of returning to Morocco next year to conduct research for my dissertation: interviewing people, digging through newspaper archives, and tracking down some hard-to-find books and films.
How did participation in the CLS Program affect your life?
Before CLS, my acquisition of Arabic had plateaued. I had finished the language courses at my university two years before and, while I was still reading Arabic, I was not getting much speaking or listening practice. Even though I had done well in my advanced Arabic class and understood the grammar exercises in the textbook, I was not an advanced speaker or listener.

CLS lifted me out of my malaise. Classes were focused on listening to news programs and having discussions on complex social issues. Rather than simply coming up with the answer to a textbook question I didn't care about, I had to finally start using those grammar rules to articulate myself and understand my classmates as we spoke about issues that I do care about.

Outside of the classroom, the language partners were an amazing resource. I had spent a previous summer in Morocco, but most of the young Moroccans whom I met at that time wanted to speak with me in English or French. With the CLS language partners, though, for the first time I developed friendships entirely in Arabic. We're staying in touch and I can't wait to see them again.
What was your favorite part about being in your host country?
This is probably the most clichéd thing I could possibly say, but it's true: I love the people and the food.

Many of the Moroccans whom I met were kind enough to engage with me in interesting conversations on complex topics even though my Arabic was quite bumbling. I think this conversational generosity and patience stems in part from the fact that Morocco is such a linguistically heterogeneous place, with three Tamazight (Berber) languages, different levels and regional variations of Moroccan colloquial Arabic (darijah), Modern Standard Arabic, French, Spanish, and English all spoken.

I'm the kind of person who plans my vacations around street food dining options, and Moroccan food is legendary, particularly for its sweet/savory flavor combinations. One favorite: pastilla, a chicken (or pigeon), onion, and nut-stuffed pastry sprinkled with cinnamon and sugar.
What did you learn about your host country that you didn't know before?
I have read quite a bit about Morocco and had spent a previous summer studying Arabic in Rabat, but this summer was the first time that I visited rural areas—an experience that definitely enriched my understanding of the country. The weekend after we arrived, our entire group stayed with host families in an Amazigh village in the Middle Atlas, visiting a few women's cooperatives, as well as a gorgeous lake in Ifrane National Park. Then, near the end of the summer, we had an extended break due to the end of Ramadan and Throne Day falling in the same week. One of my classmates and I took the opportunity to travel to stunning Aït Bougmez (a.k.a. Happy Valley) in the High Atlas. During the day we hiked around and at night we hung out under the one streetlight in the village with the young people home from university for the holiday. When Eid came, our new friends invited us to share in the celebrations with their families.
Please share a short story about your CLS Program experience.
Early in my stay, I visited the Roman ruins at Walili (Volubilis). I wasn't planning on hiring a guide at first, but then I met an older guide who spoke with me in Modern Standard Arabic (MSA). We went on to talk about not only the ruins, but also about his life, the history of the nearby town (Moulay Idriss Zerhoune), and about a local author whose novel I was reading at the time (in which one of the protagonists is an old man who is a guide at Walili). I felt so comfortable chatting with him that, before I knew it, two hours had passed and I had to leave to meet my friend. At that point in the summer, it was the longest sustained conversation that I had ever had in Arabic outside of the classroom—it inspired me to strike up more conversations with strangers in MSA over the course of the summer.
What is your favorite target language word or phrase, and what does it mean in English?
ويلي ويلي ويلي
Wīlī wīlī wīlī. Literally "my woe, my woe, my woe" or "my hell, my hell, my hell," in use it's not usually as serious as it sounds. It's most similar to "Oh my God." As with the English phrase, it can show astonishment with both positive and negative connotations. The cadence of the phrase is important: the first wī is long, with the rest of the syllables following rapidly after.
What is a must see or must try in your host city or country?
Tangier is one of my favorite cities anywhere. Sit in the Café Hafa terraces overlooking the strait of Gibraltar (a completely different experience during the day and at night), meander through the Kasbah and down to the beach, watch a film at the Cinémathèque, take a seat on the sidewalk terrace at the Gran Café de Paris (café culture is very important), and check out the music scene (which includes everything from gnawa to discotheques).

For something completely different, head to the holy city of Moulay Idriss Zerhoune with its beautiful views and free outdoor Roman baths. Both times that I went, my friends and I were the only tourists in sight. Also, nearby Walili (Volubilis) has the best preserved Roman ruins in the country.
What advice would you give prospective applicants, participants on the program, and/or recent CLS alumni?
Participants: if you haven't previously studied your country, read some well-regarded scholarly books on it in addition to any internet research that you do.
Personal background
I grew up in Portland, Oregon and I remained in the area to attend Reed College. After graduation and working at a number of jobs (bike messenger, grassroots organizer, after-school programs coordinator, vagabond in Mexico), I served as a Peace Corps community health volunteer in Cameroon for two years before returning to the US to start my PhD program.
Alumni Profiles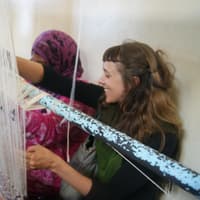 Caitlin Scholl
Arabic 2014
Morocco
---
---
Posted Date
April 27, 2015