Betty Nen
Betty Nen is an alumna of the 2017 CLS Indonesian program in Malang, Indonesia. Betty is a rising senior studying political science and Southeast Asian studies at University of Wisconsin-Madison. At UW-Madison, Betty lives in the International Cooperative House, which is home to an equal number of American and international students. She loves the cultural exchanges that spontaneously happen during her daily life at the house. Betty also works at the Center for Southeast Asian Studies at UW-Madison, where she provides information on Southeast Asia to students and coordinates a weekly series of talks by specialists in Southeast Asia.

Papua New Guinea and Indonesia
My parents met in Papua New Guinea: my father was a high school teacher and my mother was a Peace Corps volunteer teaching science. I have visited Papua New Guinea with my father twice, and the strong sense of family and love I felt from my visits inspired me to seek a career in the international development sector. UW-Madison does not offer a major in Pacific studies, so I decided to major in Southeast Asian studies. Indonesia shares a border with Papua New Guinea, so learning Indonesian was a logical choice for me.
A Moment to Remember
My favorite experience with CLS Indonesian was the second-to-last weekend of the program. An uncle in my extended host family had recently gotten married, and the entire extended family took a snorkeling trip on an island. It was a lovely trip, snorkeling with my host family and eating fresh fish for dinner together. When we tried to leave the island to get back to the mainland, the tides were very low. We walked halfway around the small island to find a landing dock with a wooden ladder connecting us to a boat that was still submerged in water. Thankfully we all made it into the boat, and set off to the mainland as the sun was setting. Sitting on the boat, with the water spraying in my face and the sun setting, surrounded by my host family, was the most comfortable and serene moment of my trip. I reflected on my trip and was proud of how I was able to blend myself into this family and this culture in a mere eight weeks. As an introvert, it is always hard for me to feel comfortable in group settings or opening up to people I don't know well. But as I reflected on my trip, I was proud of myself for opening up and relating to people from a culture so different from my own.
Future Plans
I was accepted to the Boren Scholarship Indonesian Flagship Language Institute, and will be studying Bahasa Indonesia at UW-Madison through our summer program. After that, I plan to spend the fall semester back at Universitas Negeri Malang living with a host family to continue my studies of Bahasa Indonesia. I am applying for a Fulbright research grant after graduation and hope to study Indonesian literature at Leiden University in the Netherlands. After a potential Fulbright, I am considering graduate school and a job with the State Department. Bahasa Indonesia has created numerous academic opportunities for me and I want to give back through my future career.
Alumni Profiles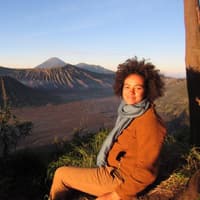 Betty Nen
Indonesian 2017
Malang, Indonesia
---
---
Posted Date
July 23, 2018