Benjamin Simington
Why did you want to study your CLS target language?
I wanted to study Hindi in order to deepen my understanding of Indian culture and history; studying a country's language allows for greater insight into the way the country is imagined and understood by its residents.
What are your educational and/or professional goals?
I desire to become a professor of medieval Indian history and an activist for non-violence in the Chicago metropolitan area. I want to create an NGO that mentors Chicago area youth and teaches them about ideas of non-violence within the Indian tradition. The youth that complete the mentoring program would go on a trip to India for 10-12 days.
How do you plan to use your target language in the future?
I plan on using my target language for my research as a graduate student and professor. I will research legends about medieval Indian saints and medieval Jain devotional literature. I also plan on using my Hindi to conduct study tours for Chicago area youth.
How did participation in the CLS Program affect your life?
CLS has had a huge impact on my life. After immersing my self in Hindi, I was able to make personal connections with locals during conversation. CLS has helped me to sharpen my Hindi skills to the point where I am beginning to be able to translate a variety of texts. Translation skills will be vital in my future research. My love for India has deepened as a result of the program. I feel more connected to the country's diverse cultural traditions.
What was your favorite part about being in your host country?
One of my favorite parts about being in India was having the opportunity to visit important historical and cultural sites. I took the time to meander around neighborhoods that were historically significant. I encountered temples and shrines that have been in use for centuries. My time in India really inspired a sense of awe at how deep the historical memory runs in the country, along with the sites that bear testament to that memory.
What did you learn about your host country that you didn't know before?
I learned of the significance of the Jains in Indian history. The Jains currently make up approximately .5% of India's population; however, they have made a lasting impact on Indian history and culture, in spite of their small size. The Jains played an important role in the development of the concept of ahimsa, or non-violence. Jain monks wrote important philosophical treatises on topics like cosmology and ethics. I hope to use Jain ideas of non-violence with the youth I hope to mentor in the future.
Please share a short story about your CLS Program experience.
One of my most powerful experiences on the CLS program was during a free weekend I spent in Jaisalmer. Jaisalmer is a goregeous city in western Rajasthan, a state in Northwestern India. During my time in Jaisalmer, I got the chance to wander around the city's iconic fort. However, the most breathtaking portion of the trip was a camel safari several of my program mates and I took part in. We rode around the Thar desert on majestic camels; the only sounds we heard were the jingle of the bells around our camels's necks and the wind in our ears. Riding in the silence of desert was utterly peaceful. We spent our night on a sand dune; the shooting stars and constellations in the sky were crystal clear. It was unequivocally one of the most amazing experiences of my life.
What is your favorite target language word or phrase, and what does it mean in English?
My favorite phrase in Hindi is कया बात है। (pronounced KYAA BAAT HAY). Kyaa baat hay literally translates as "what is this thing?" It's an exclamation used to describe something profoundly positive or negative. If you sing a great note, listeners may say kyaa bat hay. If someone cuts you off in traffic, you may say kyaa bat hay.
What is a must see or must try in your host city or country?
One thing I think every visitor to India should try is an Indian sweet called jalebi. Jalebi is like a neon orange funnel cake. It is sold at a variety of sweet shops; one usually has to visit a shop early in the morning to purchase it. Every morsel of jalebi is a delight for the tastebuds.
What advice would you give prospective applicants, participants on the program, and/or recent CLS alumni?
I would advise prospective applicants to the CLS program to think about applying to the language they are most passionate about. They should begin writing the essays for the application as soon as possible. Writing earlier allows one to experiment with ideas and structure in a way that can make one's essays more compelling. It also affords ample time to those that will proofread and offer comments about your essays. If your writing comes from the heart, then it will penetrate the hearts of others.
Personal background
I am from Matteson, IL; Matteson is in the south suburbs of Chicago. I love Chicago and all of the various cultural, intellectual, and culinary traditions present within the city's metropolitan area. Many of my personal and familial connections are in Chicago. In my free time, I enjoy reading Hindu and Sufi devotional poetry, European literature, and African history. I seize every chance I get to travel, whether it's domestic or international. I relish the opportunity to be in nature, whether I am hiking or simply walking around a forest preserve. I love volunteering; I firmly believe that we should all work to make our local communities and our global communities as wonderful as they can possibly be.
Alumni Profiles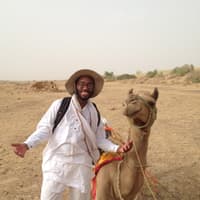 Benjamin Simington
Hindi 2014
Jaipur, India
---
---
Posted Date
March 23, 2015