Anesce Dremen
Anesce Dremen is an alumna of both the 2015 and 2016 CLS Chinese programs in Xi'an and Suzhou, China, respectively. She is currently a senior at Carthage College majoring in Chinese and English literature with a creative writing concentration. Raised in a little town in North Carolina, Anesce took off to the frozen winter wonderland of Wisconsin to attend Carthage College. When not cuddling with a book, she can be found brewing tea (with yixing teapots), cooking scrumptious vegan dishes, writing poetry, or raising awareness on domestic violence.
Why Chinese?
The summer before my first year of high school, I read Lisa See's novel "Snow Flower and the Secret Fan" and was immediately engrossed. I swiftly read all the books the humble, local library offered about China. Two years later, my high school was one of thirteen in North Carolina to begin teaching Mandarin. The more I learned, the more the language became inseparable from myself. The use of characters rather than letters captivated me and I began to draw connections between etymology and cultural values. While at Carthage College, I enrolled in a course titled "Tea: Science & Society," which delved specifically into the history and culture of Chinese tea; I learned how to distinguish the main categories of tea and learned how to clumsily brew tea with a gaiwan. Studying abroad was the experience that solidified my love for Chinese people and culture.
Thinking in Chinese
Before CLS, I would think in English and translate the sentences into Chinese before speaking or writing. While participating in CLS and abiding by the language pledge, I gained a new mindset by thinking in Chinese before speaking. This not only allowed my grammar to become smoother, but allowed a balance in self-confidence, ease, and humility within my speech.
Tea Time
While in Xi'an in 2015, I didn't yet have the vocabulary to discuss literature at a satisfactory depth; instead, I would visit tea shops located a five minute walk away from campus to sip tea and discuss tea culture. During one of these excursions, I made two local "tea friends" whom I still stay in contact with several times a week now, nearly two years later. There are countless people I've met via CLS who I still keep in touch with.
Whether talking with roommates, homestay family members, language partners, or community members, I encourage those who study abroad to discover a passion and share! I understand how frustrating it can be to not be able to fully express yourself, but treat yourself with patience. You will make grand improvements gradually -- it does not occur overnight.
Finding a Voice
The concept of family and the sheer importance of filial piety in China is both admirable and frightening to me. As someone who ran away from an abusive family, it was difficult for me to answer some of the basic, introductory questions people asked. When I said "I don't have parents," some Chinese people would assume I couldn't comprehend the simple words they spoke. Sometimes I would lie and describe my friend's family only to lack photographs of "home" to share. Sometimes I would claim to be an orphan who grew up in a church or school. It was simply less cumbersome. It is difficult for me to talk about what I went through in my native tongue, let alone in a second tongue. Yet, there are estimates that one in three people are abused at least once in their lifetime. I am not the only one struggling to speak.
Alumni Profiles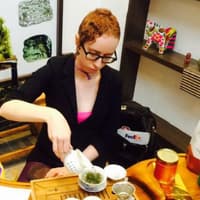 Anesce Dremen
Chinese 2016
Suzhou, China
---
---
Posted Date
March 28, 2017