Andres Fernandez
Why did you want to study your CLS target language?
I always had a fascination for Russian culture and history, so I jumped at the first opportunity I had to learn the language at my university. I knew that learning this fascinating language would not only open doors for me in Russia, but throughout the countries of the former Soviet Union as well.
What are your educational and/or professional goals?
Once obtaining my bachelor's degree, I plan to teach English for a couple of years in Russia and/or its neighboring countries. Afterward, I intend to pursue a master's degree in Russian and Eurasian Studies with the ultimate goal of joining the Foreign Service.
How do you plan to use your target language in the future?
Using Russian is vital for any of my future plans before, during, and after grad school. I feel confident that no matter what, Russia will play a very strong role in my life. I dream of being able to work and travel across East-Central Europe and the former Soviet Union promoting intercultural programs and exchanges.
How did participation in the CLS Program affect your life?
Participating in CLS fulfilled a long-held dream of mine to visit Russia and become immersed in the country's language and culture. After obtaining that first substantial taste, I became addicted, and my CLS experience served to convince me to pursue an educational and professional path centered on Russian Studies.
What was your favorite part about being in your host country?
As frustrating as it could often be, my favorite part of being in Russia was having the chance—and basic obligation—to use the language at all times, wherever I went. In spite of the difficulties and frustrations, I was aware that I possessed a remarkably unique opportunity. At the end of the program I was astonished by how dramatically my oral comprehension skills had improved and the levels of conversations I was able to hold.
What did you learn about your host country that you didn't know before?
Having never been fully exposed to Russian culture at home in the United States, I could have never imagined how passionate Russians are for their tea! From my observations in Kazan, tea time is sacred there.
Please share a short story about your CLS Program experience.
One of the dearest moments I have from my CLS experience was holding a concert at the end of our program. After weeks of preparation and rehearsal, our group performed various Russian folk songs before our host families, instructors, language tutors, and local friends. It was an amazing feeling to see all of them together supporting us. During one of my solo songs I forgot some of the lyrics, but was quickly helped along by the audience.
What is your favorite target language word or phrase, and what does it mean in English?
"Чай будешь?
"Will you have some tea?" A simple, yet universal phrase in Russia. It seemed that wherever we went, others offered us tea and were glad to sit down, chat, and get to know us.
What is a must see or must try in your host city or country?
Russia is such a large country with so much to see, but I strongly recommend for anyone to visit my host city of Kazan. The cultural, linguistic, and religious mixes found there are not likely to found anywhere else in the world. In Kazan, Russians and Tatars alike are extremely friendly, welcoming, and tolerant of foreigners. They are proud of their city and the dramatic progress it has made in recent years. The Kazan Kremlin with its imposing Kul-Sharif Mosque is a site not to be missed!
What advice would you give prospective applicants, participants on the program, and/or recent CLS alumni?
CLS participants at a site come from different backgrounds and experiences regarding the target language. It's important to remember that you're ultimately competing solely with yourself. Though demanding, the program is designed to improve your language skills above anything else. Additionally, don't be afraid to voice your concerns, but always be conscientious and open to values/traditions of the local culture.
Personal background
I was born in Bogota, Colombia, but grew up in Indianapolis, Indiana and Tampa, Florida. Traveling back and forth between the United States and Colombia, while living in a multicultural environment throughout my childhood, instilled in me a deep passion for traveling and learning about other cultures. I enjoy learning languages, hiking, and volunteering with the migrant worker community around Gainesville, Florida.
Alumni Profiles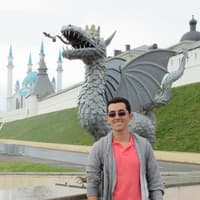 ---
---
Posted Date
March 23, 2015