Andrea Howard
Andrea participated in the CLS Azerbaijani program in 2015 following her graduation from the United States Naval Academy. Following this, she completed a Master of Arts in Science and Security at King's College in London and a Master of Science in Global Governance and Diplomacy as a Marshall Scholar, and now serves in the United States Navy as a Submarine Officer.
"CLS gave me the opportunity to reflect on what the military has done around the world, and to see how the impact of the military's interventions play out on the ground in other cultures."
Andrea was able to break down stereotypes of the military by showing deep interest in the culture and language in Azerbaijan. She showed her teachers and classmates that members of the military are critical thinkers and are young, passionate people with a strong desire to meet with others and connect to other cultures.
"Diplomatic representation of the monolith that is the United States military is very similar to the citizen diplomacy aspect of the CLS Program. You cannot begin to understand culture without the language component. With the CLS Program, you gain authenticity by learning the language."
Andrea has kept in touch with the Azeri friends she met through CLS in Azerbaijan. Andrea and her language partner had such a strong bond that the local student felt comfortable and safe coming out to her. Years after the program, Andrea's partner was able to meet her language partner while in Baku, Azerbaijan for a conference.
"Lessons that you've unlocked via languages will last."
Andrea decided to apply for the CLS Azerbaijani Program because of the geopolitical importance of the nation. She knew that for her transition from graduate school into military naval service, familiarity with the region and language would set her up for unique opportunities to engage with the Caucasus as a representative of the U.S. military. Andrea hopes to one day take advantage of opportunities to serve in the Mediterranean Sea, Black Sea, and Arabian Gulf and use her first-hand experience from the CLS Program.
Alumni Profiles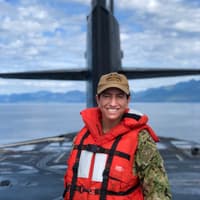 ---
---
Posted Date
March 17, 2020