Amy Moyer
Amy participated in CLS Bangla in 2009 and 2010 as a graduate student at Lehigh University studying International Education Leadership. Her advisor worked in Bangladesh and sparked her interest in learning Bangla. Amy quickly connected Bangla with her passion for a career in international education.
Amy connected with the CLS host institution, the American Institute for Bangla Studies, and returned to do her dissertation there in 2012 after her second summer with the CLS Program.
"The CLS Program was key to getting me into Bangladesh and connecting me with people, organizations, and schools that have furthered my career in international education."
Amy conducted her CLS capstone project on the education system in Bangladesh and went into the community to observe schools and interview community members. This provided a foundation for her dissertation research, where she focused on leadership in school systems and how it affects overall education outcomes.
"The leadership at each school in Bangladesh is highly important because of how the education system is standardized. The lack of variety in school curricula made the difference in teacher culture and how effective teachers were critical to the overall education. What makes the ultimate difference in education is distilled down to the human factor being the only variable between these standardized education practices."
Most recently, Amy was published in the book, 'Teaching and Teacher Education: South Asian Perspectives.' Her chapter is called 'Barriers to Effectiveness in the Classroom: Three cases of novice teachers in Bangladesh.'
"The CLS Program shaped the trajectory of my degree and career, so I always promote the program to my students. This year I was able to provide a reference for one of my students applying to the Japanese program."
Alumni Profiles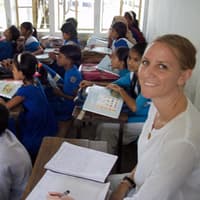 ---
---
Posted Date
February 04, 2020