Amber Barrow
Amber Barrow is an alumna of the 2015 CLS Chinese program in Dalian, China. She is originally from Opelousas, Louisiana, but spent her childhood in Houston, Texas; she is currently a junior at Syracuse University, where she studies neuroscience and biology. When she's not doing research and preparing for medical school, she does ballet and binge-watches Korean dramas.
Why Chinese?
I chose Chinese because, as a future physician, I wanted to increase my cultural competence and improve my understanding of a culture different from my own. After I graduate from Syracuse, I plan to do research in China for two years under various fellowships; my long-term professional goals are to go to medical school, become a neurosurgeon, and volunteer medically in China.
The CLS effect
I learned so much about China on CLS. For example, I learned that China is not one big homogenous place; each part of China has a culture, history, and set of values that are its own, and because of this, China's actually one of the most diverse countries. CLS also gave me the confidence to study and retain another language! Though studying Chinese for two years sounds cool when you tell others about it, it wasn't enough to actually have a conversation or survive in a place where only Chinese was spoken. But after three months in China, my language skills grew tremendously – as well as my faith in actually one day becoming fluent.
The mystery of the missing host brother
One way I marked my progress with Chinese was with my understanding of where my host brother was. When I first moved in with my host family, my language skills were poor. I asked my uncle if he had a son or daughter, and was happy when he told me he had a son - I wanted someone young to talk to. I asked the standard questions – "Where does he go to school? How old is he?" and Uncle said, "he goes to college in Japan." A few days later, I was sleeping in my room and my aunty called me – "Amber, come here, your brother's here!" She then introduced me to a man who said something about bringing cherries. I was sleepy, so I gave him a quick "hi" and "bye" and went back to sleep. The next day I was confused and asked Aunty who the cherry man was, and she told me, "That was your older brother." I gave her a blank look and told her, "but Uncle told me he's in Japan – why is he here?" She just looked at me funny and told me to eat my breakfast.
Two weeks later, I tried asking again. My Chinese was a lot better by then, so I could get more details. I said, "Aunty, Uncle told me that my brother is a college student in Japan, so why did he come here that time?" Aunty said, "Amber, your brother went to college in China, and works in Xinghai Square." To this day, I do not know if Uncle was messing with me, but it took me four weeks to figure out where my host brother was!
If you had one day in China…
My favorite thing in China was the food! Chinese food is extremely different from back home. For example, I am not a vegetable person in America, but with the way veggies are cooked in China, I ate more veggies than meat. If you're in Dalian, try the cherries! Dalian is famous for its cherries and they are in full season during the summer. There are different types for everyone's tastes – super sour, super sweet, in between, etc.
In a word…
My favorite Chinese phrase was "热死了" (re si le) – "it's so hot I could die." Since Dalian is in Northern China, the summers are as hot as the winters are cold. Since the school building rarely had AC inside, I walked around constantly saying it was hot!
Words of wisdom
If you are a participant of color, your experience will be different from those who are not, and that is perfectly alright! Learn to practice patience, to take things in stride, and to tell the difference between naïve ignorance and ill will; when you do come across the latter, handle it with patience and grace and just move on with your time. You have more amazing things to discover during your short stay so try not to waste it on people who do not add to your great experiences. Humor is important! If you can laugh at certain situations, your life will be that much easier.
Alumni Profiles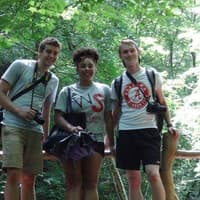 Amber Barrow
Chinese 2015
Dalian, China
---
---
Posted Date
May 03, 2016