Alexis Sammarco
Why did you want to study your CLS target language?
Before I started college, I had the option of studying Spanish or Arabic and I decided to challenge myself and try Arabic. I was immediately fascinated with the culture and beautiful sounds of the language. After three years, studying Arabic has changed the course of my educational and professional goals.
What are your educational and/or professional goals?
My educational goals are to obtain success at the highest level possible in Arabic, no matter how long it takes. I would like to work in a place that advocates for improving human rights around the world, requiring use of my Arabic skills.
How do you plan to use your target language in the future?
I would like to use my Arabic skills for cross-cultural conversations and tackling dense cultural differences.
How did participation in the CLS Program affect your life?
CLS changed my life dramatically. After completing the program, I felt 100% more confident in speaking Arabic. I am not as afraid to make mistakes anymore, and I have a deeper understanding of Middle Eastern culture, which I am able to relate to my friends and family in the U.S. more easily.
What was your favorite part about being in your host country?
My favorite part about Oman was the culture and the natural beauty of the country. Living in Nizwa, I was fortunate enough to walk home every day to a beautiful scenery of mountains. I also enjoyed speaking with language partners and learning about and celebrating the differences between Omani and American culture. The relationships I developed with the other American students are friendships and connections I will keep for a lifetime.
What did you learn about your host country that you didn't know before?
When I arrived in Oman, pretty much everything was new to me. However, my favorite subject to learn about was the cultural clothing. Normal clothing consists of Abaya's, which are long black dresses worn by women and the men wear Dishdashas, which are long white robes. However, on special occasions, such as weddings, the women wear gorgeous sequin-colored tunic dresses with matching pants underneath. The mixture of colors and design allow the women to represent themselves individually.
Please share a short story about your CLS Program experience.
One time, I was speaking with my language partner and I was telling her, "I will return." However, she kept giving me a funny face until she finally realized what I was trying to say. After she was done laughing, she looked at me and said, "You're pronouncing it like, I'm going to throw-up." Since then, I have been very careful with my pronunciation!
What is your favorite target language word or phrase, and what does it mean in English?
My favorite word is mumkin and it means maybe. Even when I'm speaking English, I sometimes catch myself saying it and then I just confuse the English (and non-Arabic) speaker I'm conversing with!
What is a must see or must try in your host city or country?
A must see in Oman is Jebel Akhdar and Jebel Shems. There are amazing ancient ruins at each mountain and beautiful hiking and climbing trails.
What advice would you give prospective applicants, participants on the program, and/or recent CLS alumni?
Do everything with an open mind. The best way to truly experience a country's culture is to be open to trying new things and accepting new ways. Not only did I learn about Oman on this trip, I learned important things about myself and I was able to realize the importance of opening yourself up to new ideas because it makes life so much richer and fun.
Personal background

I grew up in a suburb twenty minutes outside Chicago.
I love playing soccer and doing any type of outdoor activity. I also love listening to Arabic music. Currently, my favorite song is Zina by Babylone.
The first time I ever left the United States was on my CLS trip to Oman! Since then, I have only been home for three weeks because I am currently studying abroad in Jordan.
Alumni Profiles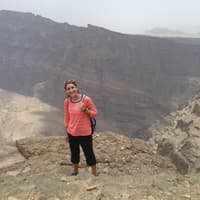 Alexis Sammarco
Arabic 2014
Nizwa, Oman
---
---
Posted Date
March 23, 2015