Alexandra Dionisi
Alexandra Dionisi is an alumna of the 2020 and 2021 CLS Indonesian Program hosted virtually by Universitas Negeri Malang in Malang, Indonesia. Alexandra received her Associates of Science Degree in Paralegal Studies and the Spanish Language from the Rowan College of South Jersey. Alexandra plans to pursue a bachelor's degree in Linguistics with a minor in Indonesian. She hopes to work as an English as a Second Language (ESOL) teacher using her Indonesian language skills to bring ESL classes to a greater number of students.
Getting to Know Alexandra
I grew up in Millville, New Jersey. I've always had a strong interest in learning languages and can speak four: English, Spanish, Tagalog and now, Indonesian. Besides that, I love reading, singing, practicing yoga and visiting novel places with my friends.
In terms of my upbringing, I come from a mixed family: my mother is from the Philippines and my father is of Italian heritage. This exposure to diverse cultures from an early age has shaped my interest in languages. Even though I did not begin learning my mom's language until I was eighteen, I have been intrigued by my family's chatter in Tagalog and Ilocano since I was a small child. I also recall being frustrated when I would go to the local flea market, hearing everyone speaking Spanish and not understanding a word. I was perplexed when I would overhear adults say, "they should learn English" and only speak that language. I could not agree with that. I felt like it was my calling to make connections with others by communicating with them in the language that is closest to their heart. Maybe I'm an idealist but I really believe that if more people took this approach, there would be greater understanding and less conflict among the many groups of people in my small town.
Why Indonesian?
I wanted to study Indonesian for two reasons. Professionally, I hope to become an immigration paralegal so learning this language would enable me to help a wider range of people. On a more personal level, I wanted to better understand the cultural connections between the Philippines and Indonesia. I find Southeast Asia fascinating and want to work there.
I would recommend anyone who is interested to study Indonesian. It is easy to learn from the beginning and you will be conversing in no time. Also, not only are the people at Universitas Negeri Malang helpful and friendly, but so are other Indonesians. They are so happy to hear that you are learning their language and will gladly share with you any word you want to know. One of my favorite words is "perpustakaan" which means library—also one of my favorite places. If you break it down grammatically, there's the root word: "pustaka" (book) and the circumfix "pe- -an." In this way it could mean "the place of books."
Future Goals
My educational goal is to obtain a bachelor's degree in Linguistics. My current professional goal is to become an ESL (English as a Second Language) teacher. I plan to use my target language in my university studies by majoring in linguistics with a concentration in the Indonesian language. To achieve my career goals, I will use Indonesian to expand our ESL classes to an even greater number of students.
A Moment of "Rehat"
In my first year on the CLS Program in 2020, I was preparing to have a virtual meeting with my language partner, Mbak Diella. We were planning to discuss our usual topics: today's class, difficult grammar, our favorite music, but that day I was feeling stressed from a family conflict and the general conditions of living in lockdown. I could not hide my emotions from her, but she was more than understanding. As a beginner, I could only express myself limitedly, however, Mbak Diella and I share fluency in a common language: music. She sent me a song by Kunto Aji called "Rehat" which translates to "rest" in English. I found it very soothing. This experience taught me that it is okay to ask for help and grace, even if I do not have all the words to express how I feel.
Yellow School Buses & Other Cultural Differences
Though I could not physically go to my host country, that did not stop us from having a cultural exchange. I showed my language partner, Diella, a typical morning routine of waking up early and waiting for the famous yellow American school bus. I also shared some demographic facts about my town during our meetings. After the program, I shared with everyone who was willing to listen about my experiences on the program. Particularly, my coworkers at the college were the most interested. I told them how intensive the 10 hours a week of class was, and how my teachers and language partner did their best to make me feel like I was really in Indonesia.
Words of Advice
For students considering or applying for the CLS Program, I would advise them to think about the big picture. How would CLS tie into your academic and professional vision? Do not just apply because you enjoy learning languages: show your unique variety of interests on your application. Most importantly, be yourself! Do not be afraid to discuss failure or shortcomings.
I would like everyone to know that studying with CLS has been the greatest opportunity in my life. It has opened so many doors for me, and I am so happy and grateful to be a part of the alumni community.
Alumni Profiles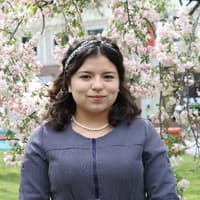 Alexandra Dionisi
Indonesian 2021
Malang, Indonesia
---
---
Posted Date
May 13, 2022