Akshayaa Chittibabu
Akshayaa Chittibabu is an alumna of 2017 CLS Korean program in Gwangju, South Korea. Akshayaa is currently in her senior year as a pre-med student at the University of Connecticut, double-majoring in Biological Sciences and Sociology. She plans to pursue an MD/MPP dual degree and a career in public service as a physician. Akshayaa hopes to use her medical training to provide care to immigrant and non-English speaking communities in the United States.

Cultural Value in the Language
As the youngest student on my program, I quickly became accustomed to Korean culture around age. Younger people use a more formal Korean speech level called jeondaetmal to talk to older people, and use terms like Eonni 'older sister' and Oppa 'older brother' to address older female and male friends. These terms are a major backbone of Korea's cultural values. Experiencing this culture firsthand was amazing because it made me feel a sense of belonging in the local community. My Gwangju Eonnis and Oppas treated me like a real younger sibling: giving me advice, buying me food, and looking out for me. As I grew close to the language partners and college students in my host family's apartment complex, I gained many Eonnis and Oppas who made Gwangju feel like a home away from home. While it initially seemed like a complicated linguistic formality, it eventually helped me to form incredible relationships that I still treasure and keep up with today.

Fascinating Similarity
Korean has been a part of my life for several years. I have been studying Korean on my own since I was in the eighth grade, when I was first introduced to the language by a Korean-American teacher. Korean has many similarities in structure and vocabulary with one of my native tongues, Tamil, and this fascinates me from a linguistic and historic standpoint.

A New Englander in Gwangju
I am a proud New Englander from the great state of Massachusetts. While abroad, I brought my New England upbringing to the host community in Gwangju, South Korea. When talking to my host family and Korean friends, I was able to share the uniqueness of New England and my experiences growing up as an Indian-American there. After the program, I brought back a deep appreciation for Gwangju's culture and jeong 'the Korean feeling of community and mutual respect and love,' and I continue to share that sense of jeong with my friends and colleagues. I'm a strong believer that the way to the heart is through the stomach, and I have been able to share my love of Korean culture with my friends and family through Korean food. Just recently, I went to a family-style Korean restaurant in central Massachusetts with a friend, and bonded with the waiter who happened to be from Gwangju! It felt like two worlds colliding in the most beautiful way.

Firsthand History Lesson
Gwangju and Chonnam National University both have a lot of historical significance in South Korea because they were the site of the May 18 Gwangju Democratic Uprising in 1980. In addition to visiting the May 18 National Cemetery and historic former provincial office downtown, I had an opportunity to learn about my host father's experiences as an elementary school student during the uprising.
Alumni Profiles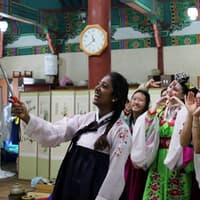 Akshayaa Chittibabu
Korean 2017
Gwangju, South Korea
---
---
Posted Date
July 23, 2018