Aisac Marie Accad
Aisac Accad is an alumna of the 2019 CLS Indonesian program in Malang, Indonesia. She's currently a senior at the University of Maryland, College Park, where she's majoring in Government and Politics with a concentration in International Relations and is dual-enrolled as a graduate student, working toward a Master of Public Policy with a specialization in International Security and Economic Policy. She plans to continue her study of Indonesian as a Boren Fellow and to enter federal public service, hopefully at the U.S. Department of State. Aisac enjoys visiting museums in D.C., dancing Zumba, playing badminton, and listening to music from all over the world.
Beginnings of Language Learning
I grew up in Waldorf, MD, but I was born in the Philippines and raised in a Filipino-American household. We always spoke Tagalog in the house, ate Filipino food, and learned about the history of the Philippines.
One of my first introductions to Indonesian was through the song "Air dan Api" (Water and Fire) by the band Naif. When I heard the linguistic similarities between Tagalog and Indonesian in the song, I instantly became intrigued.
My interest in the Austronesian Language family coincided with my interest in learning more about U.S.-Southeast Asian economic relations, especially how it has been affected by U.S.-China trade. I thought the best way to learn about the country was to learn it from Indonesians using their own language.
Unforgettable Moments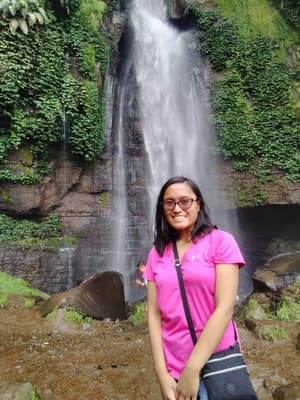 My favorite memory from my CLS experience was the night of our cultural excursion at the Wonosari Tea Plantation, the first weekend of the program. Even though I couldn't really explain my questions and I felt shy, I was empowered by my teachers and the staff to approach the workers. The experience taught me so much about the beauty of Indonesia and its people.
We also had a fun night singing dangdut and dancing and enjoying a delicious dinner. Though I didn't understand any of the lyrics and I flailed my arms trying to follow some line dances, the fears I had coming to Indonesia were instantly gone.
CLS taught me that community doesn't have to speak the same language as you. Indonesians are such friendly people that I never felt out of place. As a Filipino-American, I often shared aspects of my life that had similar concepts in Indonesian. For example, a game involving running through boxes with people trying to tag you is called patintero in Tagalog and gobak sodor in Indonesian. One of the most moving concepts I remember discussing with people in Indonesia was the impact of immigration. When I came back to the United States, I was able to explain these similarities to many of my Filipino-American friends.
Keeping Language Study Alive
Now, I attend weekly Indonesian language class at the Indonesian embassy. Academically, I hope to use Indonesian throughout my graduate studies to help gain a greater understanding of how the country is adapting to climate change while also trying to build its economy. Professionally, I hope to use the language regularly on behalf of the U.S. government.
I also participate in the Filipino Cultural Association at my college. I enjoy performing cultural dances for audiences around the DMV community. I also facilitate the Tagalog Conversation Table where I help beginners learn some basic Tagalog.
Why Study Indonesian?
More people should learn Bahasa Indonesia! Indonesia is the largest economy in the region and is the perfect country to understand for business majors. If you're interested in understanding the impacts of climate change, the best way to learn about the topic is through discussions with the people having to adapt.
Bahasa Indonesia is also such a fun language! The language is built off of roots and these roots are modified by affixes. My favorite word in Indonesian is semangat! (You can do it!) and the word can be modified by a ber- prefix to mean excited about. The language encourages you to be creative once you know the basic rules.
Alumni Profiles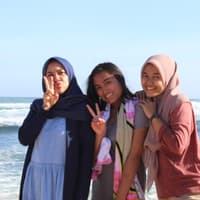 Aisac Marie Accad
Indonesian 2019
Malang, Indonesia
---
---
Posted Date
April 29, 2020