Abigail Hawkins
Abigail Hawkins is an alumna of the 2020 CLS Arabic Program hosted virtually by Noor Majan Arabic Institute in Muscat, Oman and the 2021 CLS Arabic Program hosted by Arab American Language Institute (AALIM) in Meknes, Morocco. She is a senior undergraduate student at George Mason University majoring in global affairs with a minor in Arabic. After graduating, Abigail plans to pursue a career in international exchange focusing on expanding opportunities for disabled and chronically ill individuals.
Getting to Know Abigail

I am originally from the snowy state of New England but spent most of my childhood in Rutland, Vermont, enjoying hiking, swimming, ice skating, skiing, and other outdoor activities. When I'm not in class, I love to explore Washington DC's many museums and cafes. Every spring, I hunt for the best place to take pictures of DC's cherry blossoms.
In high school, I got involved with Model United Nations and fell in love with it; I now serve as the Vice President of George Mason University's team and as a Director for NHSMUN, the largest high school Model UN conference.
I am also involved with my university's College Diabetes Network and volunteer with non-profits working to improve healthcare access and affordability, a cause that is near and dear to me. Language learning is another passion of mine, and in addition to English and Arabic, I have varying degrees of proficiency in three other languages!
Why Arabic?
While attending a conference in high school, I made friends with students on an academic exchange from Iraq who taught me my first Arabic phrase: how to introduce myself (مرحبا !اسمي ابي). Throughout the conference, we talked mostly in English, so as soon as I had the opportunity to take language classes in college, I chose to study Arabic to keep in touch with my friends. The friends I have made throughout my studies have continued to serve as my biggest motivation to keep learning. Studying Arabic on the CLS Program introduced me to the world of Arabic media. Learning about current events in the Middle East and North Africa from local news sources provides an additional level of nuance and helped me to further my discussions both with friends living in Amman, Muscat, and Beirut, and with friends in Washington, DC, New York, and Boston.
Understanding another language also allows me to double my consumption of music, poetry, and movies. My favorite musician at the moment is Manal, a female singer and songwriter from Morocco, who my CLS language partner introduced me to! When you become a student of Arabic, the natural frustration that comes with learning a new language quickly gives way to a sense of excitement and curiosity as you are introduced to this beautiful culture and vast history. My favorite word in Arabic is ممتاز (amazing). It's fun to say, and it perfectly sums up my experience learning the language!
Accessibility and Study Abroad
As a type one diabetic for the last ten years of my life, I have made many connections within the disabled and chronically ill community. Among this community, there is a considerable amount of hesitation towards studying abroad, given the concerns of accessibility in the classroom and in a foreign country. Adding to these concerns, advocating for accommodations in a new language is a daunting task.
When CLS started its virtual institutes in response to the COVID-19 pandemic, I was able to see the ways in which language study and study abroad opportunities had become more accessible, creating a positive out of an overwhelmingly negative situation. After my virtual CLS program, I was excited to promote this incredible opportunity to others in my community. I was met both with interest in the language and the culture and with suggestions for how to continue improving upon CLS's efforts to make language learning more accessible.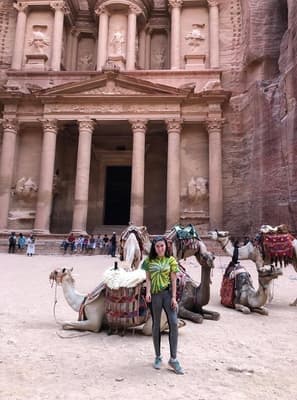 What's Next for Abigail?
Following my graduation this year, I plan to pursue a career focused on expanding access to exchange programs, particularly for disabled and chronically ill individuals such as myself. It is my belief that the best way to improve relations between countries is to foster relationships between the people of each country, and for this to truly be successful, the diversity of the countries' populations must be represented. Studying Arabic, especially through CLS, will help me to serve as a liaison in establishing these types of citizen diplomacy exchanges between the United States and the Arabic-speaking world, promoting mutual understanding and collaboration on global concerns such as climate change, poverty, and global health.
Final Thoughts
There is no magic formula when it comes to a successful CLS participant. It is a community of unique individuals with a variety of identities and experiences who share a common passion to improve their understanding of a language and the culture, history, and people who shape it. Don't fall victim to imposter's syndrome! If you are passionate about improving your language skills and applying those skills to your professional life or your community, then CLS is for you.
Alumni Profiles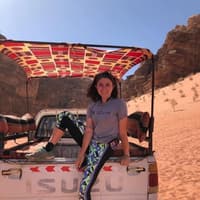 ---
---
Posted Date
March 22, 2022