Aasha Shaik
Aasha Shaik is an alumna of the 2018 CLS Arabic program in Amman, Jordan. She is currently a junior at Rutgers University in the Honors College and women's Douglass Residential College, and is majoring in Political Science and Middle Eastern Studies. She's been spending the 2018-19 academic year studying abroad at SciencesPo in Menton, France and was just awarded a Truman Scholarship. Aasha is a dancer (Bollywood and, when she was younger, Indian classical), and loves hiking as much as she can, especially while she's studying abroad in the south of France.
Intercultural Beginnings
My parents emigrated from India to central New Jersey just one month before my birth. I was raised both Muslim and Hindu, which broadened my perspective on religious and cultural issues. Living in India for a year in high school contributed to my passion for advancing gender equality, and when I returned to New Jersey I began doing gender equality advocacy work at the United Nations. There, I helped organize and moderate large-scale UN events, researched and wrote policy recommendations, and held meetings lobbying UN policy makers including Justin Trudeau. I also wrote and performed the official theme song for the UN International Day of the Girl, Girls Speak Out.
On a personal level, Arabic is a tie to my Muslim half, and it also ties heavily to my academic and professional interests in international affairs and the Middle East, which is why I began studying Arabic at Rutgers. Once I did, I immediately loved it. It's truly a beautiful language.
Learning about the Jordanian Dialect
When I first got to my host family's house, I barely understood a word of what they were saying. I panicked and questioned whether I was qualified to be on the CLS Program, wondering how I would survive the summer. However, my roommate (who was at a higher level of Arabic than I was) quickly explained some of the basic differences between formal Arabic and the Jordanian dialect to me—such as adding a "b" before verbs. In school, we had studied only formal Arabic, so I knew basically nothing of the dialects. Once she highlighted just a few of those key differences, I understood much more of what my host family was saying and regained some of my confidence about being there.
Bringing the CLS Experience Home
Since participating in CLS, one of the biggest things I share when people ask me about Jordan is about the people. For example, taxi drivers would get so excited when we spoke Arabic and were enthusiastic to help us practice or teach us new words (like the word for bridge as we drove by one).
Knowledge of Arabic has already allowed me to better communicate with populations I seek to serve: while studying abroad in France, I have been volunteering at a refugee camp right across the border in Italy. My Arabic language skills have allowed me to communicate with refugees who don't speak English or French, and have also enabled me to teach English using Arabic.
Looking Forward
After graduating in May 2020, I plan to pursue a joint JD and Master of Public Policy degrees, to best prepare me for my career in public service. I want to practice law for a period of time as a trial attorney serving marginalized populations, and ultimately aspire to a diplomatic, foreign policy position to fight for and protect the human rights of all.
---
CLS Alumni Ambassadors are recent CLS participants who take leadership roles as active and positive representatives of the CLS Program by engaging with CLS alumni and representing the program to various audiences. If you would like to get in touch with a CLS Alumni Ambassador, please contact clsalumni@americancouncils.org
Alumni Profiles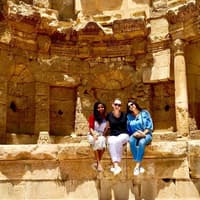 Aasha Shaik
Arabic 2018
Amman, Jordan
---
---
Posted Date
May 06, 2019