Aarzu Maknojia
Reflecting on the ways in which her South Asian heritage intersected with her experience on the CLS Program, Aarzu Maknojia (Urdu 2018) said, "Learning Urdu in Lucknow as a heritage speaker was a challenging experience. There was a constant hum of being 'too Indian' to enjoy the benefits of an American passport, but also being too American to enjoy the benefits of being completely a part of the community.
"Growing up in this liminal space wasn't particularly new. Growing up as the daughter of immigrants in Texas and as an Ismaili Muslim in a Sunni majority city, existing in spaces where I didn't quite belong was normal. However, it was still difficult. However, I felt like by finally returning to my ancestors' homeland, I would finally fit in completely somewhere. Of course, this was both a romanticized and naive perspective. There are as many opinions as there are people.
"My time in India taught me that while I can help others understand my experiences and I can work to understand others', only I can completely understand and accept my identities. With the guidance of my excellent teachers, my background of the language and culture, and my thoughtful and understanding friends, I was able to achieve my language goals and learn more about myself in the process."
Aarzu participated in the CLS Urdu program in 2018 as an undergraduate student at George Washington University. She is now a is a Junior Associate at Strategic Marketing Innovations, pursuing a Master of Public Policy at George Mason University.
Alumni Profiles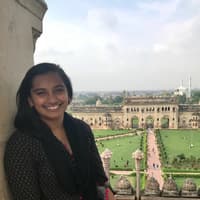 ---
---
Posted Date
May 20, 2021