Aaron Yang
Aaron Yang is an alumnus of the 2017 CLS Chinese Program in Changchun, China. A graduate of Claremont McKenna College with a bachelor's degree in international relations, Aaron now works in the U.S. Senate as a Correspondence Aide in Washington, D.C. He is pursuing a career in public service focusing on the international relations between the United States and East Asia. In particular, he wants to contribute to improving U.S.-China relations with his knowledge of Chinese language and culture. As a second generation Chinese-Taiwanese American, Aaron takes great pride in his passion for Boba Milk Tea (also known as "Bubble" Tea). Not only is he a connoisseur of quality Boba Milk Tea, he can make one from scratch!
A Late Bloomer
Growing up in a first-generation Taiwanese family in Phoenix, Arizona, I had many opportunities to learn Mandarin Chinese as a child. Nevertheless, I shunned all things related to the language, including weekend Chinese school. This started to change in college, however, as I learned about the relationship between the Chinese language and my own heritage. I became aware of the importance of language to gaining a deeper understanding of the broader socio-political dynamics that affect Chinese-Taiwanese Americans like me.

Culinary Delights of Chinese Cuisine
One thing that motivates me to study Chinese is the delicious Chinese food! I remember being exposed to so many different kinds of Chinese food throughout my language learning journey. Even now, I watch YouTube videos to try and replicate my favorite Chinese dishes at home (though my efforts don't always succeed).
For the Love of Music
I discovered my love of music while in China. Before I studied abroad in China, music was a very personal and private interest for me. However, Karaoke is a very popular social activity in China. When I participated in the CLS Program in Changchun, it was my favorite way to bond with other CLS students and our Chinese roommates. One evening, a small group of us had our first hot pot experience with our language partners. After stuffing ourselves with delicious food, we stopped by a local Karaoke place to sing and dance off all the calories.
Roommate Connection
It was surprising to me how well I bonded with my Chinese roommate during the CLS Program. This was not my first time having a Chinese roommate, but I walked away from CLS with one of my best roommate experiences. Activities such as watching Chinese dramas together, sharing our favorite songs, and buying each other small snacks helped us bond well and become not only close roommates, but also close friends.

Alumni Profiles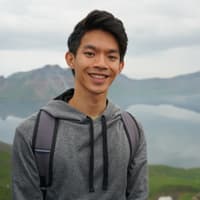 Aaron Yang
Chinese 2017
Changchun, China
---
---
Posted Date
July 23, 2018