Winter 2023
---
Hello, CLS alumni community! We hope your 2023 is off to a good start and wish you health and happiness in the year ahead.
Thank You for 2022 CLS Recruitment!
The application for the 2023 CLS Program and CLS Spark closed in mid-November. During the recruitment season, alumni played an integral role in engaging applicants. We extend our deep gratitude to the alumni who were generous with their time, joining CLS Program staff for virtual information sessions and conducting their own outreach at campuses across the U.S.
We're especially grateful to our 2022 Alumni Ambassadors (see below), as well as the other alumni who graciously jumped into CLS Program recruitment events:Reginald Anadio (Chinese 2019), Darian Allen (Russian 2022), Tucker Brown (Arabic 2010), Wendy Gong (Chinese 2017), Noah Gruenert (Persian 2019, Russian 2021), Ani Kasparian (Arabic 2015), Megan McIntyre (Arabic 2022), Bridget O'Connor (Japanese 2019), Eugeniu Prodan (Indonesian 2022), Olivia Truesdale (Korean 2020, 2021), and Rena Wang (Chinese 2018).
Are you interested in sharing your CLS experience and helping us reach new applicants across the country? Find answers to your questions and resources to support your outreach on the Alumni Outreach page.
2022 Alumni Ambassadors Finish the Year Strong!
Each year, we are grateful to the cohort of recent alumni who participate in our Alumni Ambassador program, acting as representatives of the CLS Program to a variety of audiences. This year, we want to thank the 22 individuals who served as 2022 Alumni Ambassadors. The 2022 Alumni Ambassadors came from fifteen different U.S. states and, together, have attended or currently attend 22 higher education institutions, including four community colleges. To read about their accomplishments over the last year, please see the 2022 Alumni Ambassador Year in Review.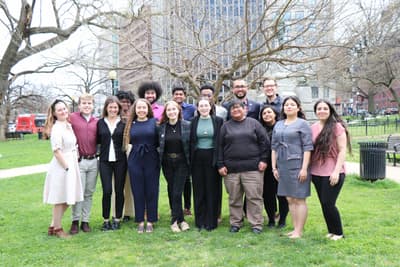 After attending the Alumni Ambassador Forum in the spring, our first in-person event since prior to the pandemic, these alumni leaders hit the ground running by helping to recruit for our inaugural CLS Spark cohort in April. They remained active and engaged throughout the spring and summer, helping to support finalists, joining CLS Program staff for pre-program orientation activities, and facilitating a series of identity and area-focused affinity groups for 2022 scholars. In the fall, they were generous with their time, telling their stories at CLS virtual information sessions multiple times a week. With recruitment for the CLS Program and CLS Spark taking place simultaneously for the first time, their support was invaluable.
Several Ambassadors represented the CLS Program at conferences virtually and around the U.S., including the Phi Theta Kappa conference in Denver, the Hispanic Association of Colleges and Universities (HACU) conference in San Diego, the virtual Diversity Abroad Global Student Leadership Summit, and the ACTFL conference in Boston.
We wish these extraordinary alumni all the best as they embark on the new year!
CLS Alumna Co-founds New Scholarship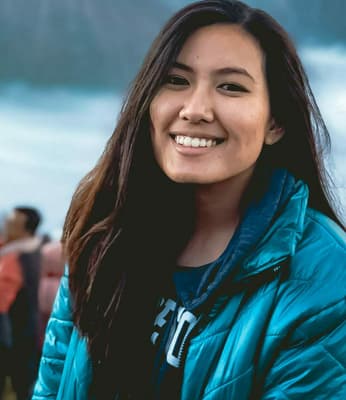 Camille Bismonte (Indonesian 2018) has co-founded the Community College Global Affairs Fellowship, created in partnership between her organization, Global Community College Transfers (GCCT), Community Colleges for International Development (CCID), and Meridian International Center, with support from the Bill & Melinda Gates Foundation.
This new fellowship will fully fund at least 30 community college, transfer, or non-traditional students to participate in a two-month mentorship program and travel to Washington, D.C. to participate in a two-week intensive summer enrichment program focusing on careers in international affairs.

Along with several other international exchange alumni colleagues, Camille launched Global Community College Transfers in 2020 as an organization dedicated to closing "the knowledge barrier to global education opportunities for community college students and those at underserved public institutions." We love to see how Camille is continuing to make a meaningful impact on her communities and help uplift others in the international affairs space.
The application for the summer 2023 Community College Global Affairs Fellowship is open now, with a deadline of March 1, 2023.
Apply for the Citizen Diplomacy Action Fund (CDAF)
Do you have a great public service project in mind, but need funding to get it off the ground? The 2023 Citizen Diplomacy Action Fund (CDAF) awards up to $10,000 to teams of two or more U.S. Exchange Alumni to carry out a public service project. Last year, seven CLS alumni were awarded grants through CDAF to implement impactful public service projects—that could be you!
The 2023 CDAF competition closes Wednesday, March 15 at 11:59 p.m. ET. Learn more: https://gties.us/CDAF.
Gilman Scholarship Opens Application for In-Person Study/Intern Abroad Programs
The Benjamin A. Gilman International Scholarship Program (Gilman Program) has opened its application for candidates wishing to participate in in-person study or intern abroad programs during the summer 2023, fall 2023, academic year 2023-2024, and spring 2024 terms. The Gilman Program is open to American undergraduate students.
The deadline is Thursday, March 9, 2023 at 11:59 p.m. ET. Learn more: https://www.gilmanscholarship.
Alumni Honors and Awards
Kyra Jasper (Indonesian 2021) was named one of the 40 individuals selected to be 2023 Marshall Scholars. With approximately a 4% selection rate, Kyra will join a cohort of outstanding future leaders; Kyra will pursue a MA degree in international law at SOAS University of London, as well as an MSc degree in international and Asian history at the London School of Economics and Political Science.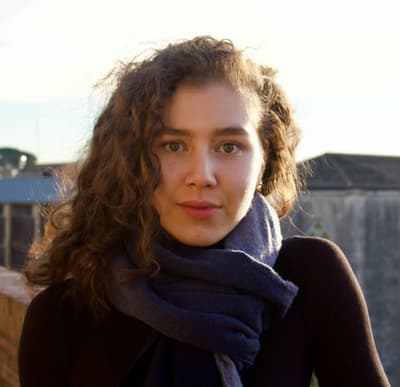 Sophie Bryant (Chinese 2020) was named a 2023 Rhodes Scholar, among 32 Scholars-Elect from the U.S. selected from 840 endorsed applicants. Sophie is currently a senior at Columbia University studying East Asian languages and cultures and mathematics with a focus on U.S.-China relations. She plans to pursue the Global and Area Studies M.Phil at Oxford University.
Of the nearly 3,000 applicants, Pirawat Punyagupta (Persian 2020, Hindi 2022), Evan Tims (Bangla 2018, 2019), and Cole Walker (Chinese 2021) were named three of 151 individuals from 36 countries and 121 universities who will make up the Schwarzman Scholars Class of 2024. They will enroll August 2023, pursuing a one-year master's degree in global affairs at Schwarzman College on the campus of Tsinghua University in Beijing.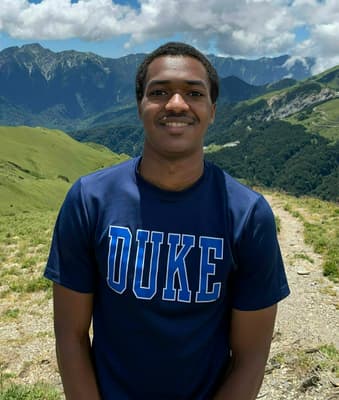 Anesce Dremen (Chinese 2015, 2016) and Lili Sarayrah (Arabic 2012) had their writing published in an anthology featuring the work of 33 disabled poets, short-story writers, and essayists entitled, In Between Spaces. Anesce's piece, "Hairline Movement" is an excerpt from her memoir vignette and includes a memory of her time on the CLS Program. Lili's piece is entitled, "Pain(t) by Number."
Aurora Lopez (Arabic 2021) was selected as one of fourteen 2022-23 James C. Gaither Junior Fellows by the Carnegie Endowment for International Peace. Junior Fellows spend one year at Carnegie in Washington, D.C. working with Carnegie's senior scholars in various fields within international affairs. Aurora was selected to work in the American Statecraft Program.
Julia Fine (Hindi 2019) and Willie Thompson (Chinese 2014) were named two of 70 individuals selected as 2022 Knight-Hennessy Scholars representing 27 countries. Knight-Hennessy Scholars participate in the King Global Leadership Program and receive up to three years of financial support to pursue a graduate degree program at Stanford University. Julia is pursuing a PhD in history at the Stanford School of Humanities and Sciences and Willie is pursuing a master's degree in business administration at the Stanford Graduate School of Business.
Kimery Lynch (Korean 2021) was selected to participate in the Alumni Thematic International Exchange Seminar (Alumni TIES), "Youth and Opportunities: Defending Democracy and Advancing Human Rights," in Philadelphia, PA.
Alumni in the News
Keep up to date with CLS alumni in the news by following our News and Stories page!
Emma Tobin (Arabic 2019) spoke with CLS Communications Officer Rori DiFiore about her journey.
Congratulations to Anesce Dremen (Chinese 2015, 2016) and Lili Sarayrah (Arabic 2012) who joint published an anthology In Between Spaces. The first ever anthology published by Stillhouse Press, In Between Spaces centers on the experiences of thirty-three disabled poets, short-story writers, and essayists as they navigate the physical and emotional complexities of disability, chronic illness, neurodivergence, and mental illness.
Alice Su (Arabic 2013) co-hosts the Economist's new weekly podcast, "Drum Tower," in which correspondents analyze stories at the heart of China and its changing role in the world.
DeAndré Espree-Conaway (Indonesian 2012) launched a podcast called "Homo Loquens," which will cover the evolution of language. The first episode, "Creoles and African-American English Varieties in a Population Genetics Approach to Language Evolution with Salikoko Mufwene" is out now.
Juntae Rocker (Korean 2022) spoke about his experience abroad in Busan with the Daily Collegian, the student newspaper at Penn State University.
CLS Alumni Society
The CLS Alumni Society (CLSAS) is an independent, alumni-led organization that provides alumni with avenues for professional development, community engagement, and language retention. To learn more about CLSAS, including how to become a member, visit their website: https://www.clsas.org.
Send Us Your Updates
Do you have updates to share with the CLS Program? We love it when alumni keep in touch—email us any time at clsalumni@americancouncils.org to share what's new in your life. We also love being tagged in your posts on social media! We are @CLScholarship on Facebook and Instagram and @CLSscholarship on Twitter.
As alumni are always interested in the process of using their Non-Competitive Eligibility for Federal Civil Service hiring, we'd like to hear from you if you've been through the process. If you've successfully used your NCE for a new job, please email us about it at clsalumni@americancouncils.org.