Winter 2022
---
We hope you're staying safe and well, wherever you are in the world this January! We have several exciting alumni opportunities under way, including CLS Refresh and Alumni Mentoring Circles, and we're looking ahead to a promising new year, and to welcoming a new cohort of 2022 Alumni Ambassadors in the coming weeks.
Thank you for 2022 CLS Recruitment!
The application for the 2022 CLS Program closed in mid-November after a shortened recruitment season. During this time, alumni played an integral role in engaging applicants. All of our outreach for this year's application took place virtually and we were thus able to include alumni in an unprecedented number of CLS recruitment events.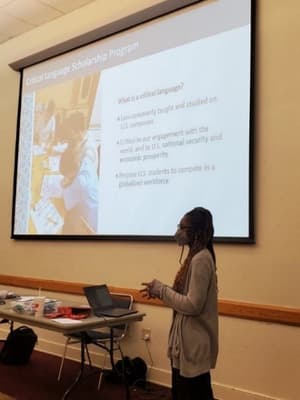 We extend our deep gratitude to the dozens of alumni who, each fall, are generous with their time, bringing the CLS Program to life to help us reach a greater diversity of students and institutions.
Alumni from a variety of program years and current Alumni Ambassadors joined CLS staff for 36 virtual information sessions and office hours as well as organizing their own independent outreach efforts. CLS also held four alumni panels focused on topic areas including Black student experiences, LGBTQ student experiences, the experiences of students with disabilities and chronic illness, and application tips for those coming from less commonly-represented fields of study. Recordings of our events can be found on the CLS YouTube channel. In addition, a variety of alumni joined CLS Communications Officer Rori DiFiore to go live on Instagram and tell their stories. You can view them on our Instagram profile—you may see some familiar faces!
We're particularly grateful to all of our 2021 Alumni Ambassadors (see below) as well as other alumni who graciously jumped into CLS Program recruitment events: Grace Ahearn (Japanese 2016), Sheen Atwa (Arabic 2016, Swahili 2018), Francesca Bagala (Russian 2021), Camille Bismonte (Indonesian 2018), Makaela Burch (Korean 2021), Albert Cavallero (Russian 2018), Pharohl Charles (Russian 2016), Stephanie Collins (Chinese 2015), Eliza Corpuz (Chinese 2021), Marjani Hall (Chinese 2012), Kyla Harrison (Arabic 2017), Sarina Haryanto (Indonesian 2018), Amber Hunt (Japanese 2019), Helen Jiang (Indonesian 2015), Cynthia Johnson (Korean 2021), Melissa Legree (Persian 2021), Joelle Leinbach (Russian 2019), Lourdes Mafnas (Indonesian 2021), Marlena McDaniel (Korean 2016), Christina Oh (Russian 2021), Frances Oladimeji (Hindi 2020, 2021), Cheyden Paulson (Azerbaijani 2021) Chad Peterson (Korean 2021), Vanessa Rogers-Wright (Korean 2021), Autumn Smith (Japanese 2015), Jayden Thomas (Japanese 2019, 2021), De'Vonte Tinsley (Russian 2021), and Simone Yuille (Swahili 2018).
No matter the time of year, you can share your CLS experience and help us reach new applicants across the country. Find answers to your questions and resources to support your outreach on the Alumni Outreach page. Have you done outreach about the program? Tell us about it at clsalumni@americancouncils.org!
Bidding Farewell to 2021 Alumni Ambassadors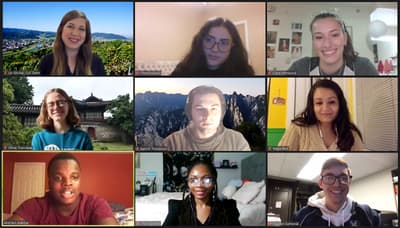 Each year we're grateful to the cohort of recent alumni who participate in our Alumni Ambassador program, acting as representatives of the CLS Program to a variety of audiences. This year, the Department of State and the CLS team say "thank you" to a record number of Alumni Ambassadors, including some who were alumni of the 2019 program and serving in their roles for a second year. This year's 33 Alumni Ambassadors represented fourteen languages and nineteen CLS Program sites. They came from nineteen U.S. states, the District of Columbia, and Puerto Rico. Together, they have attended 45 different U.S. higher education institutions, including eleven minority-serving institutions and five community colleges. To read about their accomplishments over the last year, visit the 2021 Alumni Ambassador Year in Review.
This group of alumni leaders hit the ground running in early March with a panel attended by over 200 finalists and alternates in which they spoke about their experiences on the 2020 Virtual Institutes. They kept the momentum going through spring and summer, acting as facilitators for a series of identity and interest area-focused affinity groups for 2021 scholars. In the fall, they were generous with their time supporting almost daily CLS virtual information sessions, Q&A office hours, Instagram Live chats, and requests from campuses for alumni representation.
We wish these extraordinary alumni all the best as they complete their terms!
CLS Refresh
This fall, the Department of State's CLS Program launched a new language learning offering, CLS Refresh, for alumni to contribute to the continued development of critical language skills with the goal of integrating those language skills into their academic and professional careers. Alumni responded overwhelmingly to the launch of the program, with almost a thousand applications representing 49 states, Puerto Rico and the District of Columbia. Participants in CLS Refresh are receiving two hours per week of individualized virtual tutoring sessions for varying durations from October 2021 through February 2022. Instruction is being provided by long-term CLS host institutions based overseas, who are pleased to welcome back alumni and continue the work of advancing mutual understanding.
We're catching up with alumni participating in CLS Refresh – follow along on social media to see where they are now!
Alumni Honors and Awards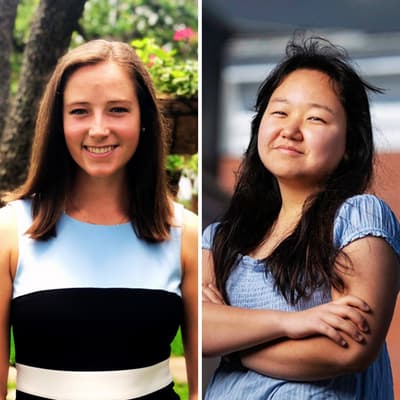 Amani Core (Chinese 2016) was selected to be a 2023 Schwarzman Scholar. Amani is one of 60 Americans selected for this seventh class of Schwarzman Scholars, among a total of 151 scholars representing 33 countries and 106 universities. The Schwarzman Scholars Class of 2023 will enroll in August 2022, where they will pursue a one-year master's degree in global affairs at Schwarzman College on the campus of Tsinghua University in Beijing.
Isabelle Galko (Indonesian 2021) and Abrita Kuthumi (Korean 2018, 2019) were selected as two of the 41 new 2022 Marshall Scholars. Isabelle will pursue graduate studies at the University of Oxford and Abrita at the University of Sussex.
Rachael Merritt (Russian 2019) was selected as a 2022 Rhodes Scholar, among 104 Scholars-Elect representing 41 countries. Rachael, currently a senior at the University of Michigan, plans to study in the Russian and Eastern European and social science of the internet programs at the University of Oxford. She is a co-founder of the Flying Subtitles Collective, a group that provides free professional translation services to Russian activists, students, and journalists. Read more about Rachael and the Rhodes Scholarship here.
Benjamin Anderson (Chinese 2019), Emily Carll (Hindi 2020), Tima Dasouki (Turkish 2020, 2021), and Kali Dykstra (Arabic 2021) were all selected for the 2022 Pickering Fellowship, which supports students from backgrounds historically underrepresented in the U.S. Department of State as they pursue a two-year master's degree program and go on to serve as Foreign Service Officers.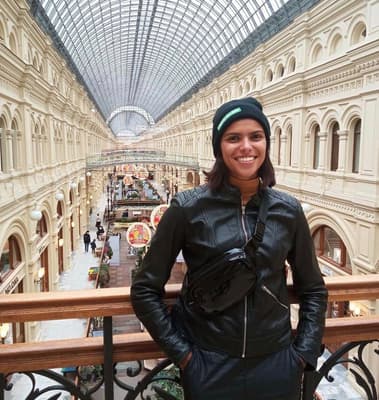 Three CLS alumni participated in the Youth Town Hall hosted by U.S. Ambassador to the U.N. Linda Thomas-Greenfield as part of the larger Summit for Democracy held by President Biden. Abiodun Adeoye (Swahili 2020), Andrew Linder (Russian 2015), and Aasha Shaik (Arabic 2018) were three of the sixteen U.S. representatives to the town hall, among other young leaders from around the world.
Did you receive a major fellowship we missed? Let us know at clsalumni@americancouncils.org; we'd love to hear about it and share your good news!
Alumni in the News
Keep up to date with CLS alumni in the news by following our News and Stories page!
Sophie Aigner (Indonesian 2011) was interviewed for an article by Arizona State University about her work since graduating. Sophie worked in international development and recently founded Alive, Fit and Free, a virtual community to connect seniors.
Leora Eisenberg (Persian 2017) co-authored an article, entitled "An American in Dushanbe: How Studying Persian in Tajikistan Affects U.S. Students' Language Learning" for the Oxus Society for Central Asian Affairs.
Collin Walsh (Bangla 2013), a current Pickering Fellow, was interviewed by Mobility International USA about his trajectory and why those in the disability community are well-positioned for Department of State fellowships and careers.
Andrew Howard (Urdu 2020) was featured in an article by Ohio University for his selection for participation in CLS Refresh. Andrew is continuing to study Urdu to support research on the history of imperialism in South Asia for his Ph.D.
Join the CLS Alumni Society
The CLS Alumni Society (CLSAS) is an independent, alumni-led organization that provides alumni with avenues for professional development, community engagement, and language retention. To learn more about CLSAS, including how to become a member, visit their website: https://www.clsas.org.
Send Us Your Updates
Do you have updates to share with the CLS Program? We love it when alumni keep in touch—email us any time at clsalumni@americancouncils.org to share what's new in your life. We also love being tagged in your posts on social media! (Facebook and Instagram @CLScholarship, Twitter @CLSscholarship)
As alumni are always interested in the process of using their Non-Competitive Eligibility for Federal Civil Service hiring, we'd like to hear from you if you've been through the process. If you've successfully used your NCE for a new job, please email us about it.