Alex Miller
John Alexander (Alex) Miller is an alumnus of the 2015 CLS Indonesian program in Malang, Indonesia. He grew up in Gig Harbor, Washington, and currently lives in Utah where he works as an Advanced Supervisor at Vail Resorts Retail. He has both studied and taught Indonesian at Brigham Young University and the University of Wisconsin – Madison, and he has interned with the U.S. Department of State in Madagascar. When he's not studying or researching ISIS recruitment rhetoric, he is an avid skier and cyclist.
Why Indonesian?
Prior to CLS, I served a two-year mission for the Church of Jesus Christ of Latter-day Saints in Indonesia, where I lived in Tangerang, Solo, Surabaya, and Medan. During my mission, I fell in love with Indonesian culture and people and wanted to make Indonesian a larger part of my life. Professionally, I also want to use Indonesian to further national security directives; I hope to obtain an MA in national security or international relations in the future and, ultimately, work as a Foreign Service Officer.
Learning more than just language
My time in Indonesia has helped me to truly understand people and cultures beyond my own. I especially learned a lot about the cultures of young adult college students, which has shaped my understanding of the new generations of Indonesians and has helped me appreciate the significant potential that the new generations have to shape Indonesian society.
A global family
One of my favorite experiences was the CLS excursion to Mt. Bromo. We drove up the day before and spent the day in the countryside with the native farmers. The next morning we woke early to take a jeep excursion to cross a desert, viewed a morning sunrise over the mountains, climbed the ridge of the Bromo volcano, and sang Indonesian songs with our language partners all night long in front of a campfire. It was such a fantastic bonding experience for all of us and helped create a true sense of unity and love. I loved spending extra time with my language partners; they began to feel like family throughout the program, and we have become even better friends since I left.
In a word…
My favorite Indonesian word is alhamdullilah, which is an Indonesian adaptation of the Arabic phrase, "Thanks be to God." This phrase is particularly important because of the large Islamic population in Indonesia.
A taste of home
Though I always recommend fried rice from anywhere off the street in Indonesia, a nice place to cure homesickness is called Waroeng Steak. It provides some American-style foods (steak and potatoes).
Words of wisdom
Jump into the Indonesian culture with both feet! By being willing to try new things, you will fall in love more quickly with Indonesian culture and people.
Alumni Profiles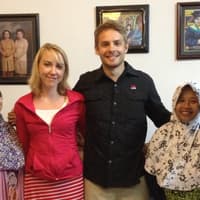 Alex Miller
Indonesian 2015
Malang, Indonesia
---
---
Posted Date
May 03, 2016