Eric Brink
Eric Brink is an alumnus of the 2019 CLS Chinese program in Changchun, China. He is currently a senior at Grand Valley State University, where he's majoring in Spanish with minors in Chinese and Criminal Justice. He hopes to use his language and cultural skills as well as interest in national and global security for a career in the federal government.
Getting to Know Eric
I grew up in Northern Michigan and spent every summer on the lake and every winter freezing. I currently work for Grand Valley State University's Department of Public Safety and the LGBT Resource Center. Additionally, I attend Chinese Reading Group meetings weekly and am a fellow of the Cook Leadership Academy at my university. I am in a weightlifting club on campus and I hope to get into competitive powerlifting in the future.
A Passion for Language Study
Since my first Spanish class in middle school I have had a passion for learning languages. I studied Chinese online in high school, so when I got to college, I was eager to take classes in person. Studying Chinese has opened up a whole new world. Aside from career opportunities, it has given me access to new media and friends. I think the most important part of learning was actually studying in China. Once I got used to the language, there were endless possibilities. Learning Chinese is a positive way to challenge yourself and to gain a whole new understanding of the world.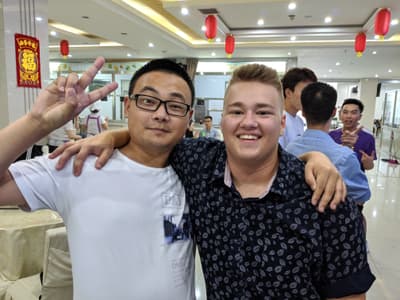 I started university with a Spanish major and Chinese minor, following my passion for learning languages, but I didn't have a specific career direction. After I started working at Grand Valley State University's Department of Public Safety, I decided to minor in Criminal Justice as well, finding that I am interested in national and global security. After graduation I hope to use my language and cultural knowledge along with my interest in security for a federal career, and I hope to have a career where I am pushed to continually improve my language skills.
First Moments in China
The first strong memory I have from the CLS Program is from the school cafeteria. Almost everyone in my cohort had been to China before and had studied Chinese for much longer than I had. We walked in during our lunch break from orientation and to me it looked like absolute madness, I didn't even know where to begin to order food. That was the moment when everything became real. Ordering that lunch was my first time speaking Chinese to a person who wasn't my professor. If I heard a recording of myself stumbling through three short sentences in that moment today, I would probably die from embarrassment, but I did it. Even though I doubted my communication skills, I completed the transaction anyway and started a series of mini-goals for every day, beginning with ordering the next day's lunch without hesitation.
The great part about the curriculum of the CLS Program is that, by the end, I found myself in a place where I could learn and improve from reading about current events or participating in conversations instead of relying on a textbook.
Sharing CLS at Home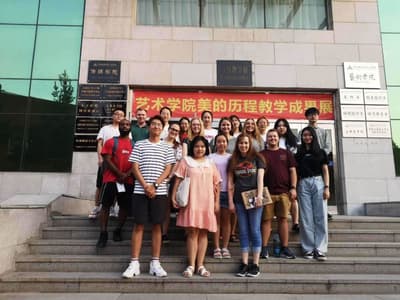 The Modern Languages and Literatures Department was excited when they heard I was headed abroad on the CLS Program, and many didn't know exactly what the CLS Program was. After returning, I have shared experiences and memories with faculty, family, and friends. I am currently preparing to meet with my university's office of fellowships to discuss promoting the CLS Program in my community and Michigan as a whole.
It is important for prospective applicants to know that even if they are facing obstacles to going abroad, it is still possible to have a rewarding CLS experience. I was a first-time traveler, which was nerve wracking in and of itself, but I am also transgender. There was a time in my life where I thought that because of these obstacles I would never be able to improve my Chinese outside of a university classroom.
Alumni Profiles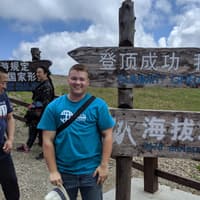 ---
---
Posted Date
April 29, 2020