Fall 2021
---
We're pleased to welcome a group of 667 new scholars to the alumni community who completed the program this summer. While the majority of this summer's programming was conducted virtually, one cohort (in Gwangju, South Korea) participated in-person. With several exciting alumni opportunities under way, including CLS Refresh, we are also looking ahead to next year already with the application now open for the 2022 CLS Program.

Help Us Recruit for CLS 2022!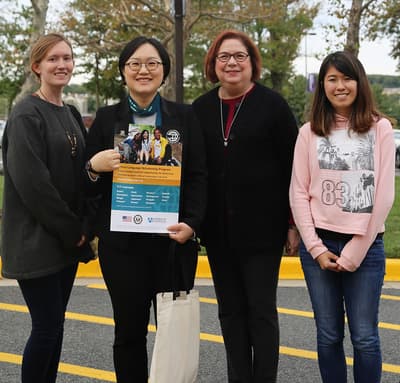 The application for the 2022 CLS Program launched on October 4, kicking off the fall recruitment season. Each year, alumni play an integral role in engaging prospective applicants, as your stories help demonstrate what the CLS Program is all about. All of our outreach for this year's application will take place virtually, so we're excited to have alumni join us in spreading the word about the CLS Program online, regardless of where you might be physically located. Our guide to alumni outreach has information about how to go about sharing your experience.
Throughout October and early November, we will be conducting a series of informational webinars on the CLS Program and application process, which can be found on the Events page of our website. We welcome you to share these events widely with anyone in your community interested in the CLS Program!
You can share your CLS experience and help us reach new applicants across the country. Find answers to your questions and resources to support your outreach on the Alumni Outreach page. Have you done outreach about the program? Tell us about it at clsalumni@americancouncils.org! Information about the CLS application can be found at https://www.clscholarship.org/apply.
Follow (and Tag!) CLS on Instagram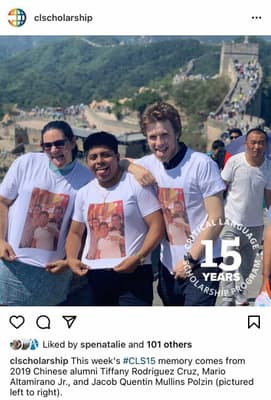 Are you following the CLS Program on Instagram? We frequently feature alumni stories and highlights and would love to have you in our Instagram community if you're not already there. Throughout 2021, we're posting weekly throwback pictures dating back to 2006 in honor of the 15th anniversary of CLS. You may see people and places you recognize! We'd love to feature your memories, too—tag us and use #cls15.
Alumni Highlights
Following their annual elections, the CLS Alumni Society welcomed three new members to the Leadership Board:
Erica Lhea Valdriz (Arabic 2015) will serve as Vice President
Anne-Marie Feeney (Japanese 2017) will serve as Treasurer
Sameera Ibrahim (Russian 2016, Persian 2021) will serve as Data Coordinator
To learn more about CLSAS, the Leadership Board, and how to get involved, visit their website: https://www.clsas.org/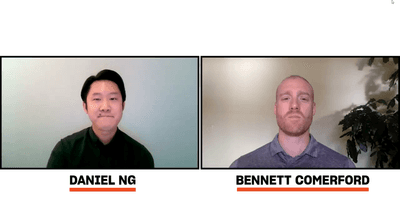 Bennett Comerford (Bangla 2011, 2012, 2014) and Daniel Ng (Bangla 2012, 2015, 2018) met as participants on the 2012 CLS Bangla program in Dhaka, Bangladesh. Almost a decade later, they reunited as they were both selected for the Junior Fellowship Program with the Library of Congress. This summer, supported by two mentors in the Library's Asian Division who are also CLS alumni, Dr. Charlotte Giles (Urdu 2009) and Dr. Jonathan Loar (Hindi 2006), they've been working together to put their Bangla skills to good use for a project on the Franklin Book Program's Bengali collection. For over two decades, the Franklin Book Program helped facilitate the publication of approximately 3,000 titles in Bangla and other languages such as Urdu, Yoruba, Arabic, and Indonesian until it was dissolved in 1978. The books were donated to the Library of Congress, where Bennett and Daniel are inventorying and gathering data on 331 of the Bangla-language books published between 1957 and 1976. Bennett Comerford is a doctoral candidate in the Committee on the Study of Religion at Harvard University. Daniel Ng is a doctoral student in sociocultural anthropology at the University of Texas at Austin.
Alumni engaged with scholars throughout this summer's virtual programs. To help instill a sense of community across languages and provide peer support, this year's Alumni Ambassadors facilitated weekly affinity groups for students with a variety of backgrounds and identities. In addition, David Anderson (Japanese 2019) and Natalie Montecino (Japanese 2020) joined virtual scholars for a coffee chat in July to discuss research as an avenue for traveling to Japan. Both alumni are returning to Japan with funded research projects—David is a Fulbright researcher and Natalie received a grant from her home institution to return to Okayama University.
Former Alumni Ambassador Simone Yuille (Swahili 2018) and Kyla Harrison (Arabic 2017) shared their experiences as CLS alumni for a virtual event held by Black Professionals in International Affairs on language-focused international scholarships.
Alumni Honors and Awards
Christin Zurbach (Turkish 2012) was selected as a 2021 CAORC Multi-Country Research Fellow. Christin is a doctoral candidate studying Middle East history at University of California, Berkeley. Her project, "Doctoring Society: The Professionalization of Ottoman Medicine," focuses on how Ottoman doctors' rise to prominence among medical practitioners in the nineteenth and early twentieth centuries can elucidate aspects of the late Ottoman socio-political landscape.

Alumni in the News

Keep up to date with CLS alumni in the news by following our News and Stories page!
Marina Bolotnikova (Hindi 2014), an independent journalist, profiled bhangra dancer Manpreet Tour for the New York Times.
Jayden Thomas (Japanese 2019, 2021) was interviewed in a news segment by the Bowling Green, KY ABC News affiliate for his achievement in being selected for a 2021-22 Boren Award., which will support his continued study of Japanese.
Hannah Kelly-Quigley (Chinese 2018, 2021) was highlighted by her institution, Susquehanna University, for being selected a second time for the CLS Program this year. Hannah discussed her decision to apply for CLS a second time, following the language gains and cultural immersion she experienced on the program in 2018.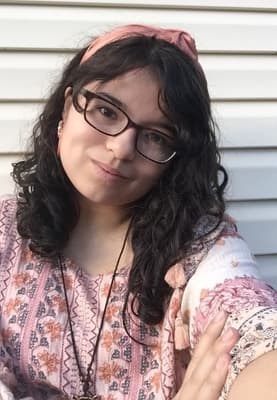 Raavi Adar (Urdu 2020) was featured in an Oberlin College news article about his experience as a heritage speaker of Urdu on the virtual CLS Program last year. He spoke about his language gains and the immersive environment created despite the program being online. Raavi is an undergraduate student at Oberlin College where he is a history major with minors in Russian and Eastern European Studies and Middle East and North African Studies.
Alexandra Dionisi (Indonesian 2020) was interviewed for a news article at her alma mater, Rowan College of South Jersey, in which she spoke about her motivations for learning Indonesian and her plans for using her language skills as an immigration paralegal.
Nicole Sanders (Chinese 2020, 2021) appeared in her hometown news, The Powell Tribune, featuring her achievement at being selected for the CLS Program.
Join the CLS Alumni Society
The CLS Alumni Society (CLSAS) is an independent, alumni-led organization that provides alumni with avenues for professional development, community engagement, and language retention. To learn more about CLSAS, including how to become a member, visit their website: https://www.clsas.org.
Send Us Your Updates
Do you have updates to share with the CLS Program? We love it when alumni keep in touch—email us any time at clsalumni@americancouncils.org to share what's new in your life. We also love being tagged in your posts on social media! (Facebook and Instagram @CLScholarship, Twitter @CLSscholarship)
As alumni are always interested in the process of using their Non-Competitive Eligibility for Federal Civil Service hiring, we'd like to hear from you if you've been through the process. If you've successfully used your NCE for a new job, please email us about it.